My 2020 Make Nine list was intended to help me slow down, make less, and be more intentional about my making. But then a pandemic happened and I stopped leaving my house and I ended up making 50 different garments and projects for myself and others, plus a quilt and more makeup pads and masks than I counted (roughly over 150, combined).
In those 50 garments, I completed my Make Nine plans, almost. The last outstanding item remains my husband's wool Tosti Coat. I completed a very wearable toile for him in the spring, so he did get a coat in 2020 (also a hand knit cardigan, two pairs of swim trunks and a button down shirt), just not the one I promised him.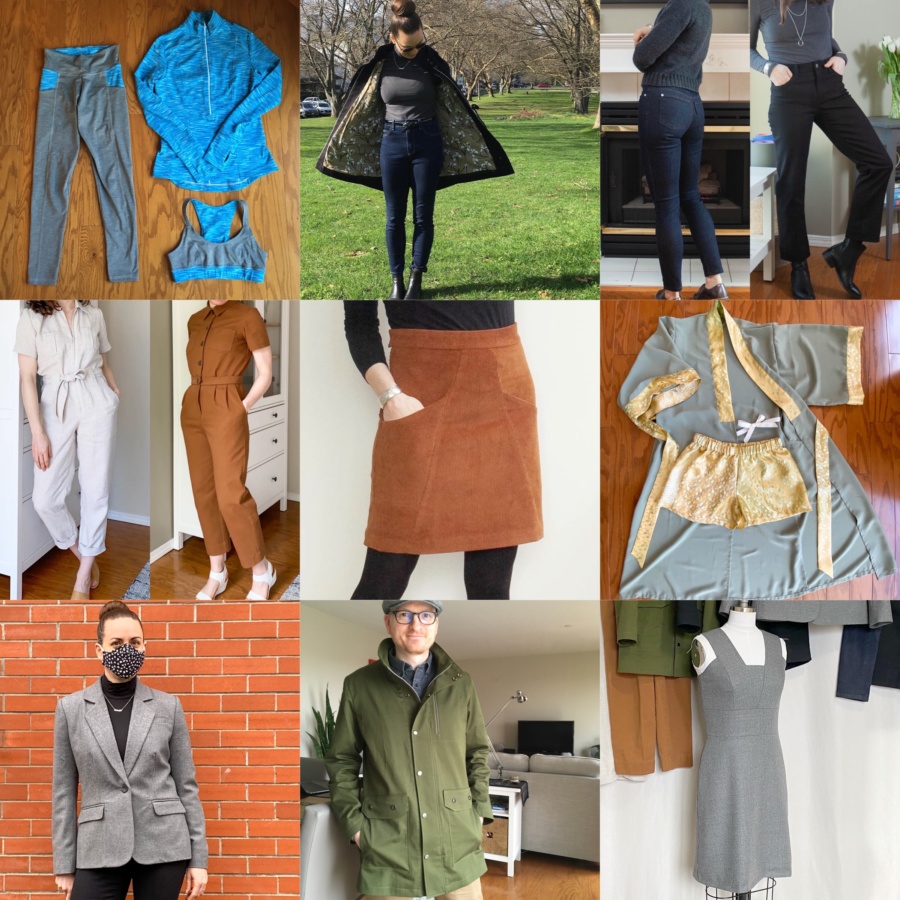 The pandemic was unprecedented so I'm letting myself off the hook for the over-making that occurred last year, but this year needs to be different. Not just because I don't need that many more clothes, but also because my chronic pain has been getting far worse and I need to slow down to a pace that's more sustainable for my physical health. It is imperative that I begin to take my time with the process without feeling like I'm getting behind on some arbitrary, self-defined deadline. I want to make less, slower, and better.
But enough about that – let's get into what I plan to make, shall we?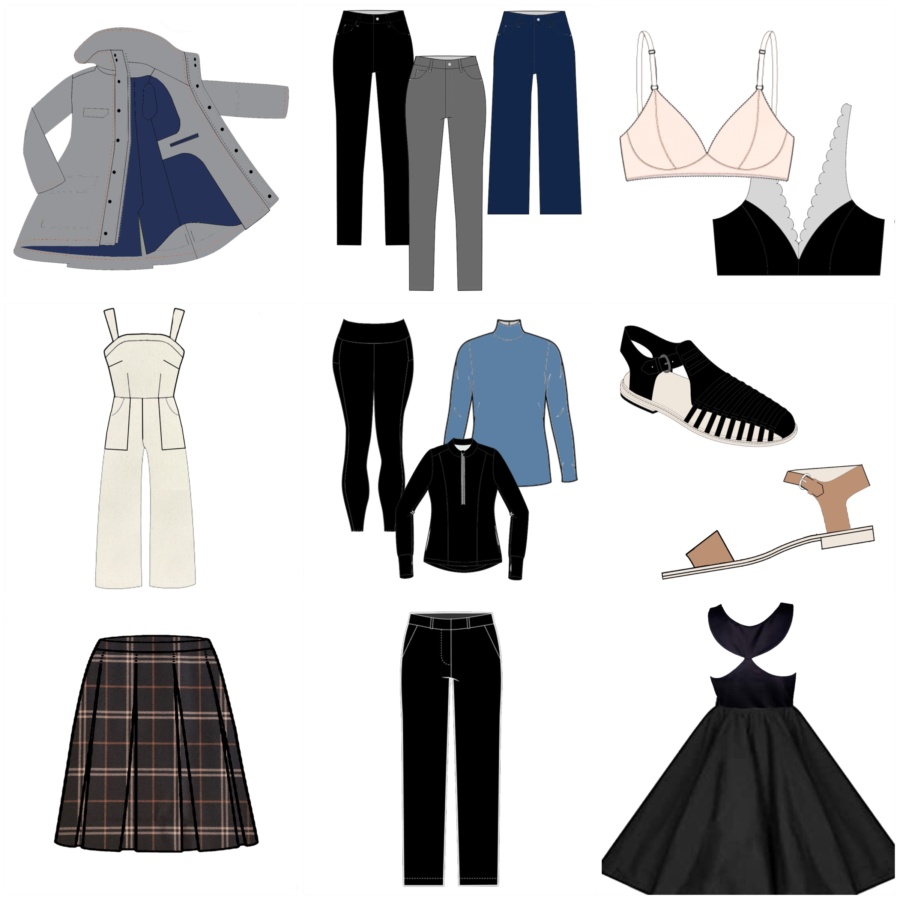 The Tosti Coat – I learned much on my Blazer project that I want to bring to this project. With some changes in fit from the toile and figuring out how to do a quilted Thinsulate lining, this is a big project still, so it needed a dedicated place in my plans. We're just waiting on the Thinsulate to arrive.
Ginger Jeans – My confidence in making jeans reached new levels last year and I'm ready to try making them for others. My sister will get two pairs of Ginger Jeans for her birthday this year… and I'll get one more pair of wide-leg ones to congratulate myself on completing hers.
Bras – My 2019 bra-making endeavours yielded six Cloth Habit Watson bras. I don't wear the long line versions (I find them uncomfortable and they ride up) so that left me with four bras. Once of these was quite messy because of cobbled together fabrics so I've really just worn three of them on repeat and they are getting quite worn out. My bust size has also increased a bit in the last year so I'm in need of some new undergarments. I'd like to make some more Watson Bras and also try the Studio Costura Hannah Bralette. I've got loads of supplies so I should be good to go for these.
Jumpsuit – This one has been in my head since this past summer. I've already bought myself some natural brushed bull denim for it. My plan is to drape the bodice and use the Lander Pants, minus the zip fly, for the base. I'd like the bodice waist darts to line up with the Lander pockets. It will have a lapped side zip and an overlapping top band with a hook and bar closure. Or at least that's my plan. This one is going to be very DIY so things might change as I go but I'm quite excited to give it a try.
Stretchy things – My Avery Leggings and Sundance Jacket from last year's make nine were a bit of a fail. I plan to revisit both with better fabric and a simpler, self-drafted pullover pattern. My husband has also requested a rash guard for summer swimming and that will be self-drafted as well. My CoverStitch machine has been giving me heaps of trouble of late so I'll either have to figure that out, or go back to a trusty and faithful zig zag. I have to fabric for all three of these garments already in hand.
Sandals – My first pair of Astrid sandals were a success… but I can do better. I have all of the required supplies and want to try a pair of black ones with a smaller insole and some self-drafted brown sandals as well.
Skirt – I saw this deadstock wool from Blackbird Fabrics at the end of 2020 and could not resist it. It's destined to become a pleated skirt to wear with my Stockholm sweater or my numerous turtlenecks. I want to make this skirt without a pattern by drafting it on my dress form. It will probably happen soon because it feels like an easy win and will be nice to have when (if) we start heading back to working from the office in the new year.
Black chinos – I've had black stretch twill for this project for over a year. It was actually on last year's make nine before it got replaced by the Len Coveralls. I have dreams of drafting these myself using my pants block… we shall see.
The dress – Since I first saw Breakfast at Tiffany's, I've loved the back of this dress. I've thought often of making it and this is going to be the year. I have a dress form, I am learning to drape. I may not have anywhere to wear it, but I want to make this dress. The long skirt of the Givenchy original isn't ideal for my height-challenged frame so I plan to match the bodice with a simple 3/4 or 1/2 circle skirt. Stay tuned!
These won't be the only things I'll make this year. I'll likely still sew ten or so gifts through the year but I want to be kinder to myself about those as well. I may also make some new T shirts and tanks for myself from scrap fabrics as my supplies of both garments are threadbare. All in, that's 23 garments plus bras and basics. That sounds like plenty to keep me busy but hopefully not enough to overwhelm. My challenge will be to remain focused and not get distracted by new patterns and lovely fabrics. My other big challenge will be to enjoy slowing down and take more pleasure in the process. I sew primarily because I enjoy the outcome – the thing that is produced by my hours of work – not because I enjoy the work. For sewing to be a physically sustainable practice for me, I need the process to matter more. That will be my most important and difficult challenge this year. I hope I'm up for it.
Thanks for following along!
~ Lindsay