It's been a long winter. Long and cold. So cold that I haven't stopped knitting as I normally do come February or March. Instead, I tackled my first stranded colour work as I continued hiberknitting in front of the fire.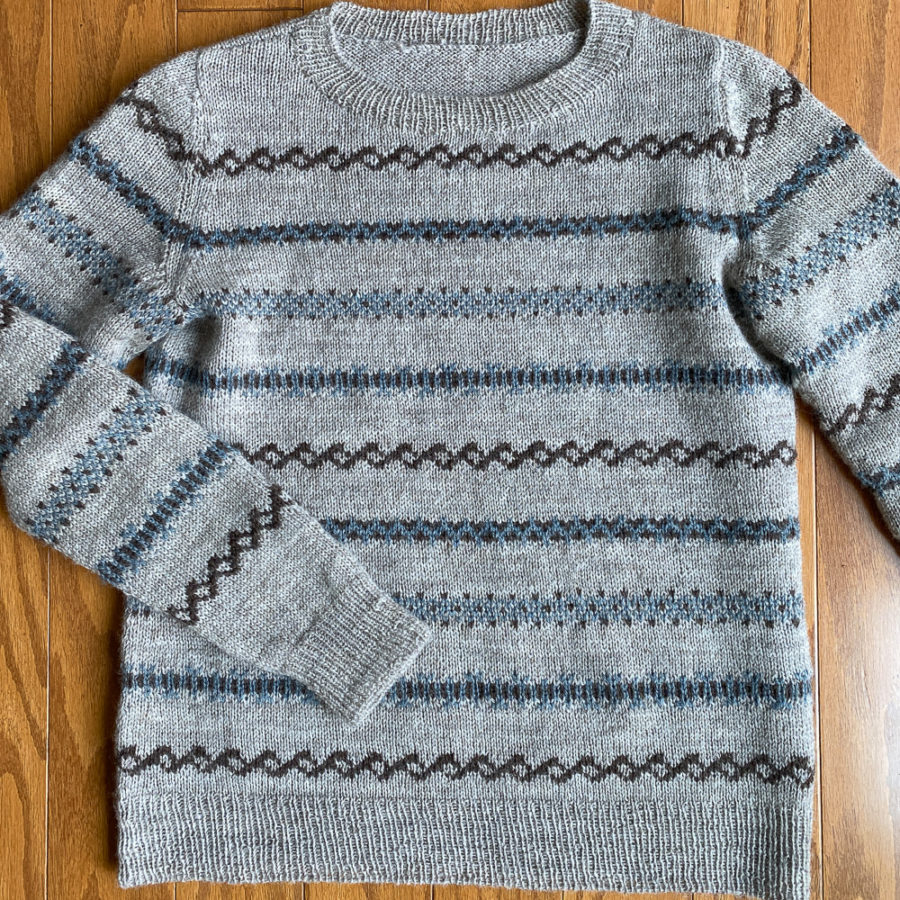 In my mind, I want an ornate and intricate, fully colourworked sweater in dark and moody colours. But my endless scrolling on Ravelry left me with very few options that I actually liked. This is in part because I don't generally like yoked sweaters (the lovely one my mother knit me for my 40th birthday aside). They usually don't fit me well and I can't stand the overly deep armholes that they tend to result in. I prefer a raglan or set in sleeve. I also couldn't see myself in any of the more ornate and colourful designs. I eventually settled on the Brooklyn Tweed Ashland pullover designed by Julie Hoover.
The Ashland has set in sleeves, well-fitted arm holes and modern, understated colourwork banding. It only uses three colours so was a good way to dip my toe in with something I was pretty sure I would wear.
I always learn something new with Brooklyn Tweed patterns and this one did not disappoint. Along with being my first stranded colourwork, this sweater was my first time using steeks, knitting with both hands and trying Italian tubular cast on and bind off. Both the arm holes of the sweater and the shoulder sections of the sleeves were steeked. I used the sewing machine method to secure them as I was far more comfortable with that than I was with adding crochet to my already long list of firsts.
The yarn I used was a slightly lighter fingering weight wool than the pattern called for – Gathering Yarn Brook Farm Fingering 100% British wool. I used colour 03 – Coverdale for the main and colours 05 – Eskdale (brown) and 07 – Aysgarth (blue). The yarn labels were light on details, so that's all I know.
I swatched the stockinette in the round with 3.5 and 3.75mm needles. Both had the same horizontal gauge and I preferred the density of cloth that the 3.5mm needles created so I went with it. The 3.5mm didn't not give me horizontal gauge, which I forgot about until I'd almost finished the first sleeve and noticed it was much too short. Whoops! I was lazy and did not swatch the colourwork, which came back to bite me when I started knitting.
I knit size 2 for a 39″ finished bust. I initially tried sticking with the 3.5mm needles for the coloured sections, but could not get the right tension and had to rip back the first section twice. I ended up sizing up to 3.75mm for all coloured rounds. I used 3mm needles for all the ribbing. After frogging my first sleeve, I sized up to size 3 sleeves and did 21 rows of plain stockinette section after the cuff ribbing to give me sufficient length. My horizontal gauge ended up being very slightly off over the whole garment as well, and I could only get about 38″ after blocking. This worked out fine and still gives me sufficient positive ease.
With all my false starts and do-overs, I definitely knit this sweater more than once. I started and stopped multiple times, getting the correct tension on the cast on and the colourwork bands. I went back and ripped out entire coloured sections multiple times. I knit the first sleeve and then realized that it was far too short. In total, I probably knit this sweater 1.5 times.
Despite all the extra knitting. I'm rather pleased with how this turned out. I actually found that I enjoyed knitting the coloured sections the most, which is good because they're the part that I kept redoing. In this photo below, you can see the extreme difference blocking made (the body has been blocked but the sleeves have not been). Blocking made this sweater!
I'm wearing the sweater two ways in these photos. With my first pair of high waisted Closet Core Sasha trousers and a collared button up for a work-appropriate look. And with a short sleeved turtle and new pair of as-yet-unblogged Helen's Closet Brooks Jeans. It is a versatile and relatively light-weight sweater so should continue to be wearable when temperatures finally return to normal here in the pacific northwest.
Now to plan my next knitting project before the heat arrives….
Thanks for stopping by!
~ Lindsay
P.S. I've turned off comments on my blog so the best way to connect with me is instagram or email. I have been inundated with spam for years and I finally got tired of moderating it and trying to sift through it for real people's comments. It's always lovely to hear from you though so please feel free to reach out.