I'm a vest person now. I started December 2022 with no knitted vests. I just had my quilted vest that I rarely wear because it doesn't feel like me (though I always get compliments when i do wear it so maybe it is more me than I think). By January 2, I was the ecstatic owner of TWO hand-knitted sweater vests and I want more (you can see my first – a lovely grey cable knit – here). My second is the Korshavn Slipover by Strikkekaffe.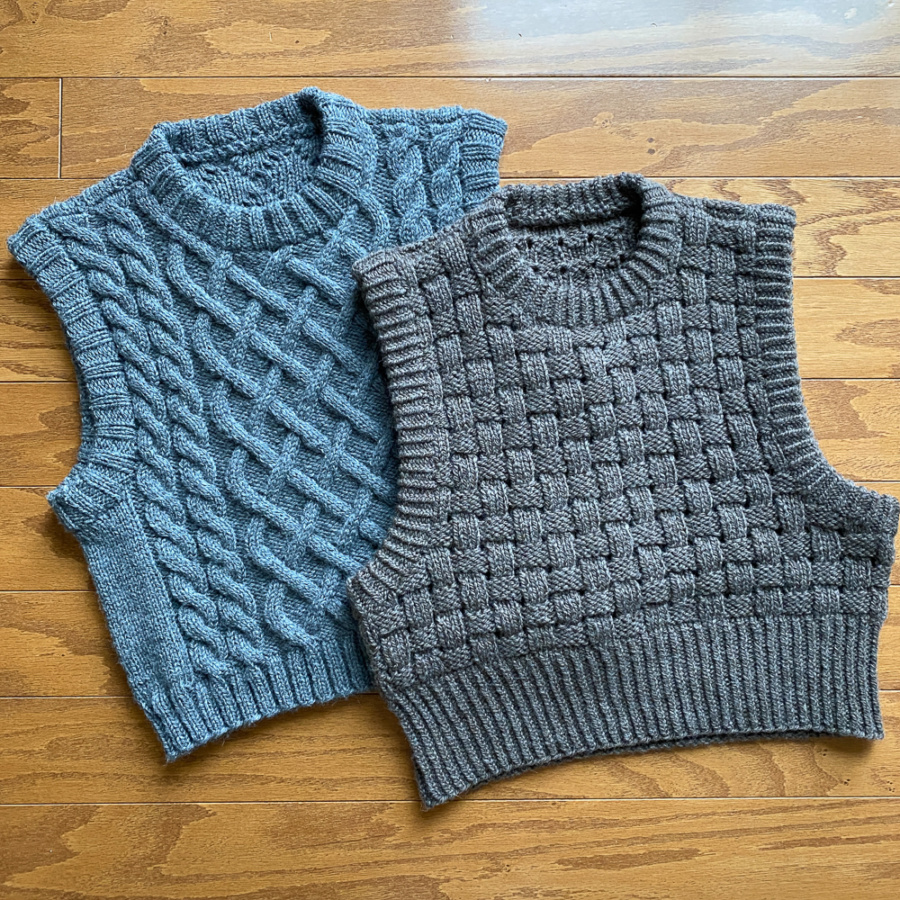 I had intend this vest to be my first but struggled to find the right wool in the right colour. I ended up finding this discontinued colour (La Costa – 4130) of Berroco Mercado from Wabi-Sabi in Ottawa and knit my grey vest while I waited for it to arrive in the mail. I first found it Beehive Wool Shop locally, so I knew I liked the colour. They only had one skein and weren't able to get anymore in so I had to look elsewhere. I was picky about the colour because I wanted it to work well with my first pair of Pietra Pants to complete the outfit I'd had in mind since I made them at the end of summer.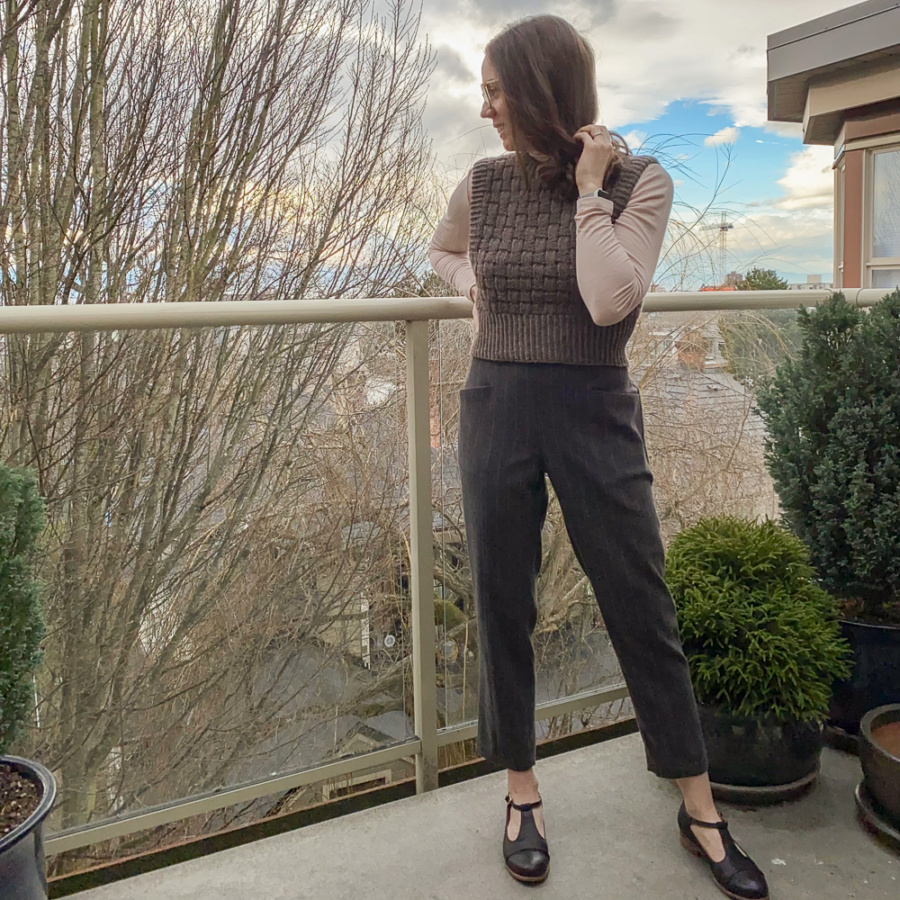 I chose not to knit this vest double stranded, as recommended, and instead went with a heavier weight wool. I used Berroco Mercado – a bulky 100% Peruvian highland wool – and it worked perfectly. This was a quick knit. I started December 27 and finished on January 2, though I was admittedly hiberknitting – a term coined by my friend that perfectly describes the state of near constant knitting, beside the fire, under a blanket that we both independently enjoyed over the holiday break.
Here are the sizing and modifications I made to the pattern. I did not swatch and just guessed at what would be an appropriate size, knowing that I tend to have a tighter tension so often have to size up.
Size medium
Worked chart A for 16 rows (rather than 10) to raise the bottom of the armscye
Worked the back for one extra 6-row repeat before casting off for the back neck (for me, this modification is similar to a high round back or forward shoulder adjustment in sewing)
Picked up 116 stitches for each armhole – 2 less than the size small instructions because I had made the armhole smaller
Used regular long tail cast on (instead of Italian)
Used a modified ribbed cast off with an extra yarn around the needle for each purl stitch to give it extra stretch
I have seen some issues noted with the instructions for this pattern on Ravelry and Instagram. I didn't have any issues myself, but I did notice what likely amount to translation errors in a few places. If you learn the pattern of the rows, everything is pretty simple and it's easy to tell where you should be casting off and what row you should be on. You can ignore the special notes in the pattern. They are where I noticed most of the errors.
I love the technique for connected the shoulders and the twisted 1×1 rib. Both techniques are new to me and I will be taking them forward to future knits. If you knit this, it is a project that needs to be blocked. The photo below is what mine looked like before blocking. The twisted rib is quite off grain but I was able to straighten it out by wet blocking it.
Like my first vest, this one is sooooo cozy to wear. It feels like a warm hug. It fits well under coats and isn't too warm, as sweaters sometimes are indoors.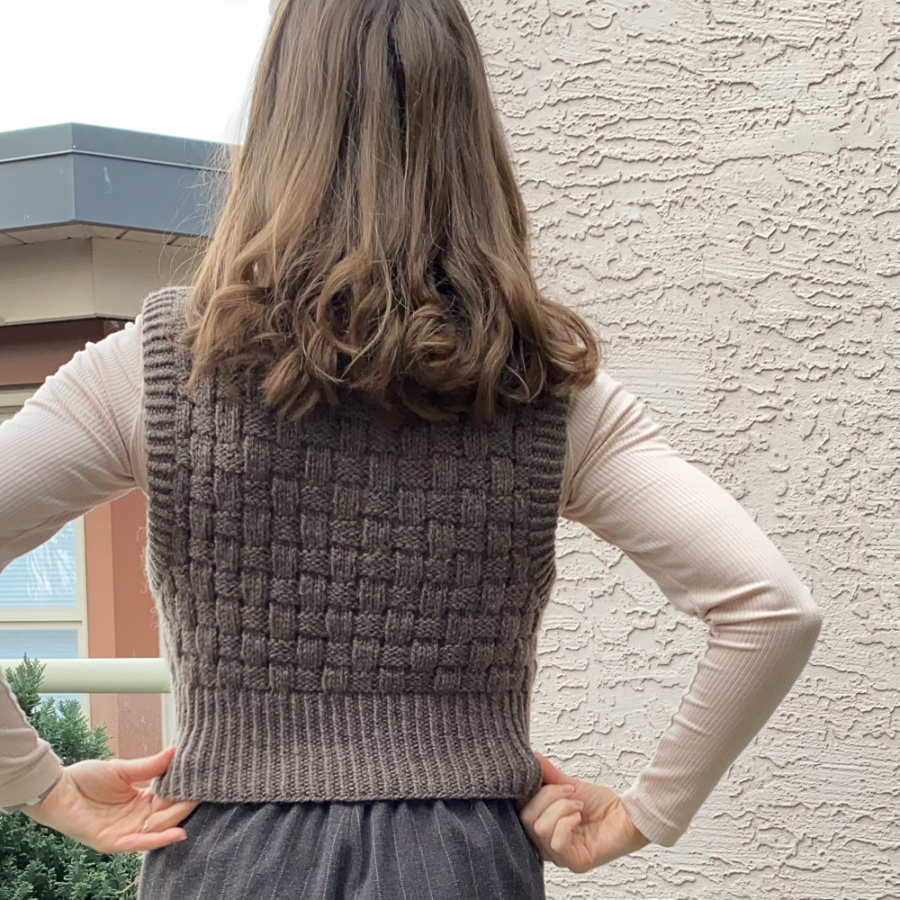 I'm 100% invested in vests now! I'm actually disappointed with myself that I didn't investigate them sooner. I think I'm going to get great returns on this investment. Don't be surprised if you see another sweater vest post on my blog before the year is out.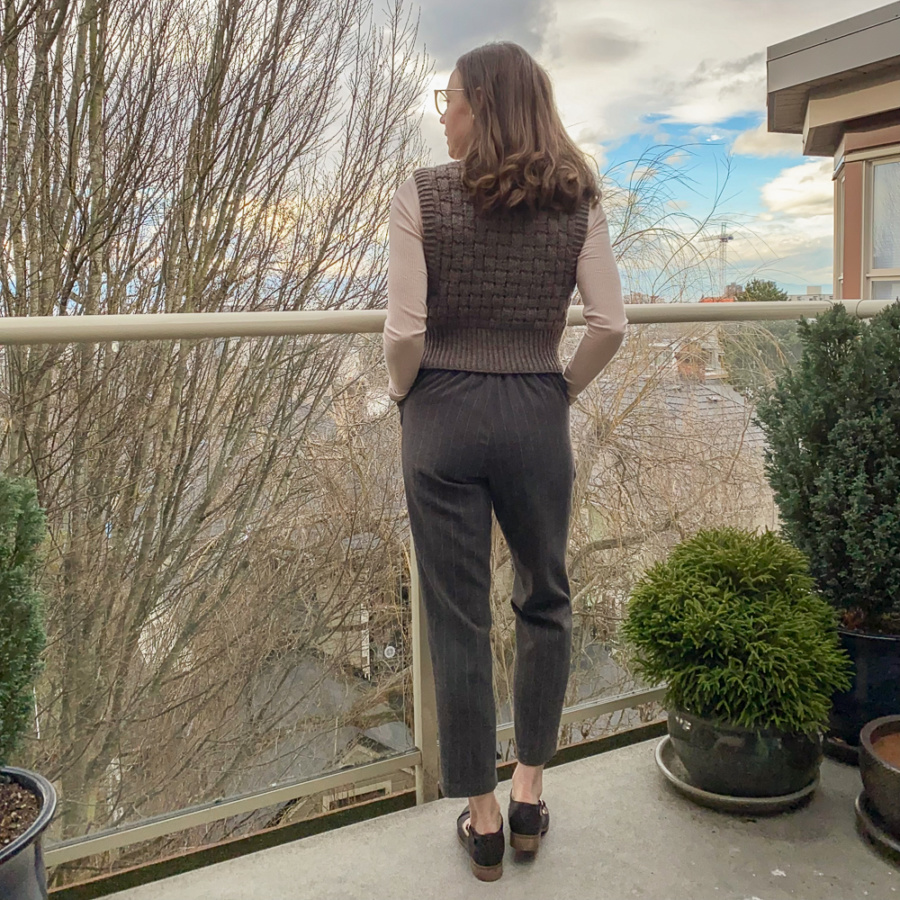 Thanks for stopping by!
~ Lindsay
P.S. I've turned off comments on my blog so the best way to connect with me is instagram or email. I have been inundated with spam for years and I finally got tired of moderating it and trying to sift through it for real people's comments. It's always lovely to hear from you though so please feel free to reach out.