I have this thing with matching my running shoes to my workout outfits. When I used to be a gymnastics coach, I always had four or five pairs of runners (Nike Shocks usually) in rotation with matching stretch pants and jackets. I haven't coached in almost 16 years but my desire to have cohesive exercise outfits has remained strong. The difference now is that I can sew, so when I got new grey and pick runners last month and it coincided with needing some new bike shorts with pockets, OF COURSE I had to make some to match my shoes.
I grabbed one metre of magenta lux athletic knit from Sitka Fabrics. I had only been planning to make a pair of shortened Helen's Closet Avery leggings with pockets and I found myself with a lot of left over fabric after I cut out my usual size (medium with a small waistband)… and that's when the wheels in my head really started turning. I really love my black Avery Leggings with matching Sundance Jacket. I didn't have enough left over fabric for a Sundance though, and I didn't want to buy any more. So I dug around in my scrap bin and pulled out failed pair of leggings made out of grey recycled athletic knit from Blackbird Fabrics (it didn't have good stretch so the leggings ended up too small). They were the perfect grey to match my shoes. I couldn't believe my luck!
The Greenstyle Creations Sundance jacket has a lot of small pieces so it's a great stash buster. I've made a few mods to the pattern (described in this blog post) and it fits me quite well now. I was able to squeeze the front and back side panels, my added back pocket, the neck band and the front and back shoulder inserts from the cut up leggings and a few other scraps I'd saved. I had to shorten the sleeves because I didn't have enough fabric but I kept them as long as possible (to keep my sunscreen requirements to a minimum). All I had to buy was a zip.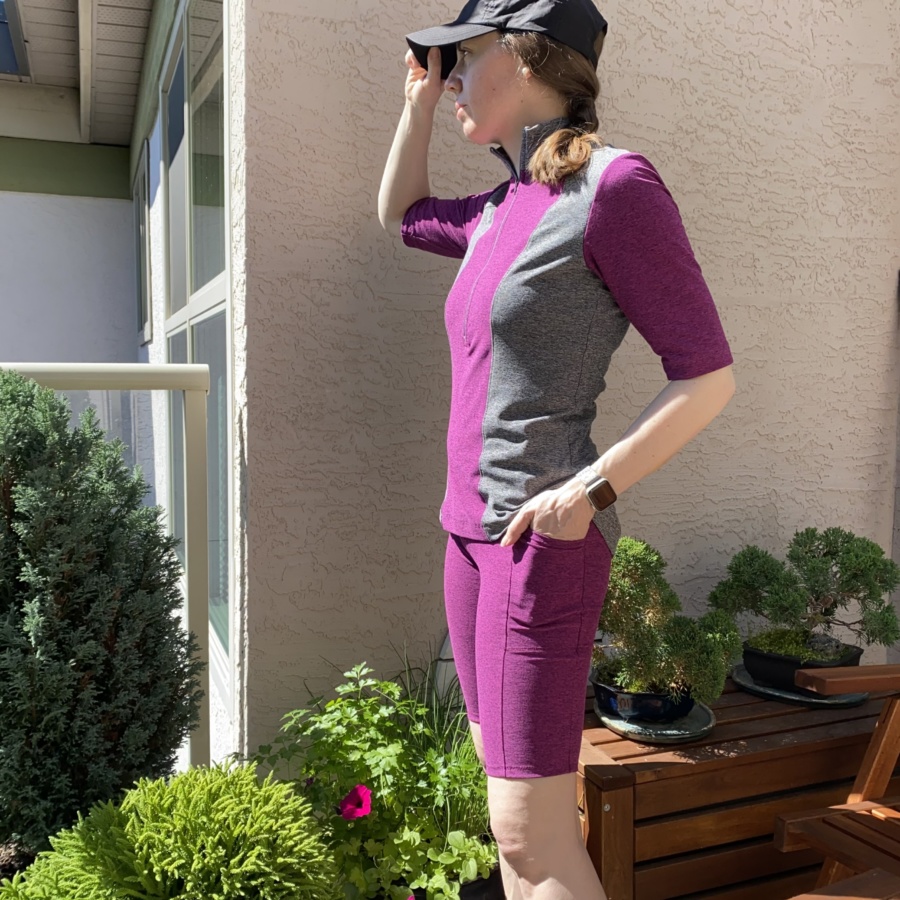 Aside from matching my new running shoes perfectly, this outfit has four pockets that don't interfere with cycling. I can easily carry my phone, ID, keys and still have a pocket to spare. Their length, just above my knee, minimizes rubbing and chaffing when I ride. They're nicely fitted so I can ride to work in them and then throw on a dress, skirt or pants over top (my workplace is super chilly) so I don't have to change (we don't have change rooms at work and I hate changing in a bathroom stall).
My modified Sundance jacket is great cycling top as well. The back hem is longer than the front and it has room around the waist for comfort when I lean forward. The half zip mod is great because it doesn't fold up and bulge out at my waist like a full zip would.
At this point, my second Avery/Sundance combo was done and I was ready to roll, but I'd unearthed all of my athletic fabric bits and they were begging to be used. My mother in law had recently picked up the Jalie Patterns Multi Sport Skort so I could help her make her first swim suit. I decided to make a tester version out of my scraps to check the sizing.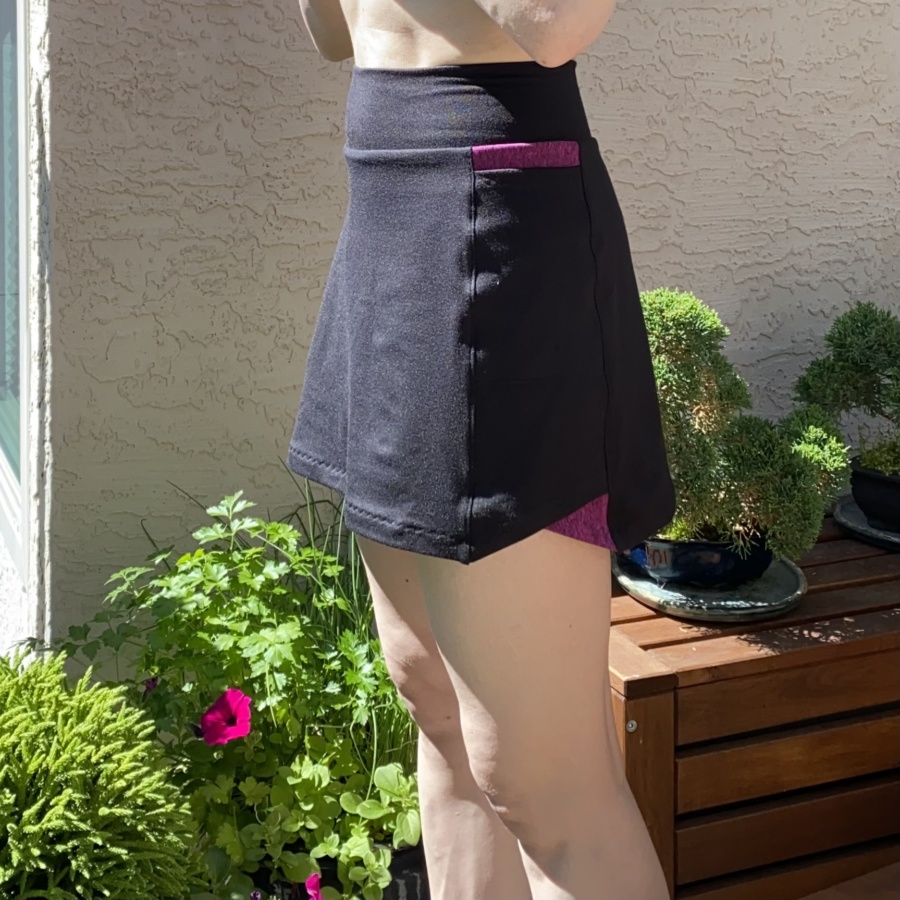 I made a straight size 6 (also called S in the Jalie lettering system). The only three mods I made were to make the side pockets deeper to fit my phone, omit the elastic from the tops of the pockets, and shorten the under shorts by two centimetres so that they don't show under the skirt. I was running rather low on scraps at this point so the coloured side panels and the under shorts are cut on the cross grain, which might be part of the reason why the side seams ended up so wavy. It could also be because the instructions have you zig zag stitch the side panels together before sewing them to the front and back. I would skip this step next time.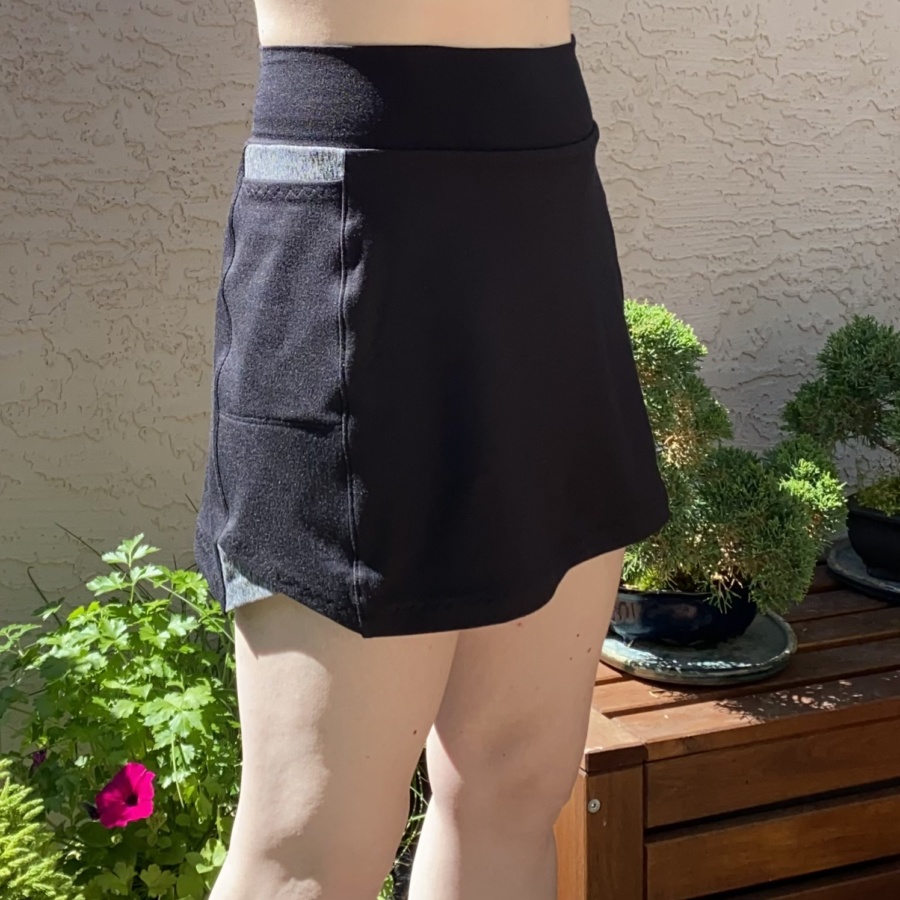 I had to use two different colours for the under side panels but I'm happy with how it turned out for my first time with this pattern. The pockets are perfect to hold my phone and ID when I walk. The fit is spot on and the different coloured side panels mean the skort matches my new shoes and my Sundance Jacket ;)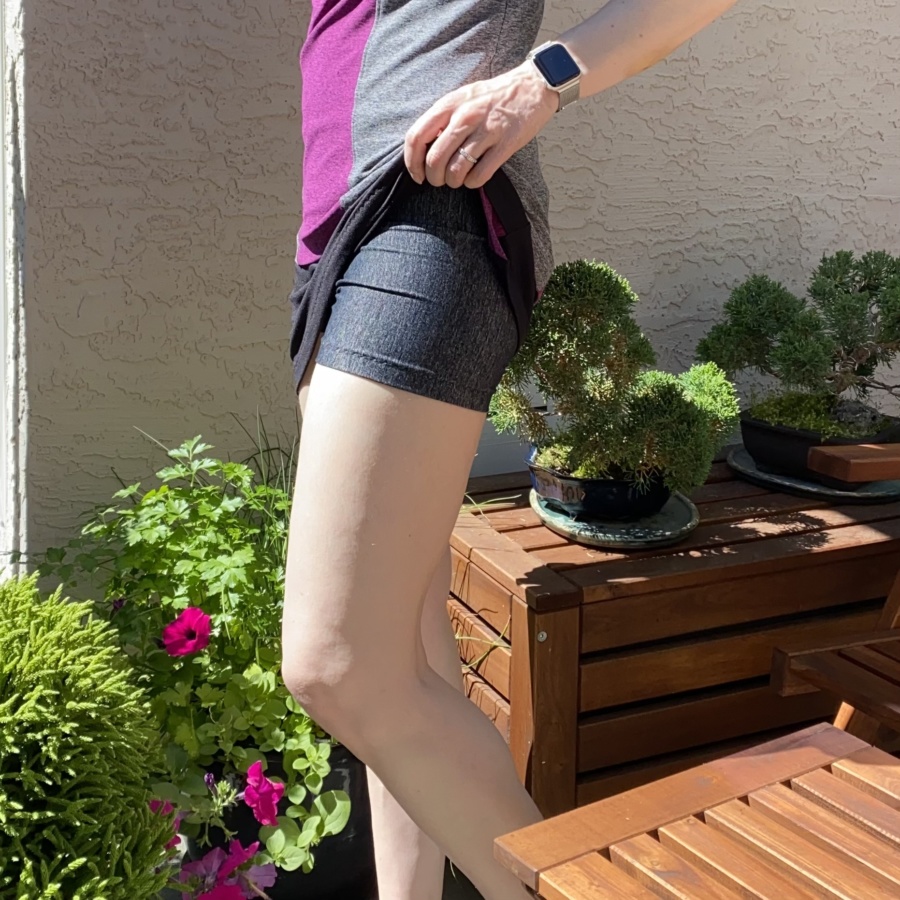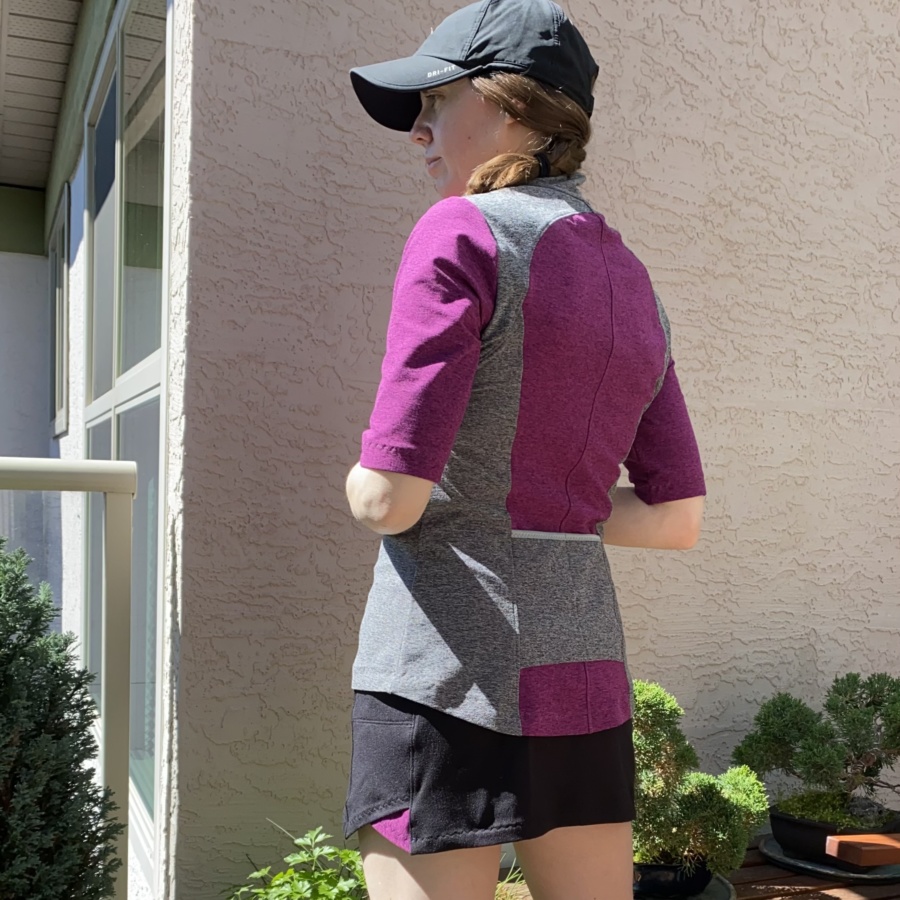 Using up scraps is so fun. I started out planning some bike short and now I have two cute summer exercise outfits with lots of pockets. I'm sure they'll get a lot more wear than they got sitting in my scrap bin.
Thanks for stopping by!
~ Lindsay
P.S. I've turned off comments on my blog so the best way to connect with me is instagram or email. I have been inundated with spam for years and I finally got tired of moderating it and trying to sift through it for real people's comments. It's always lovely to hear from you though so please feel free to reach out.