A couple of years ago, my husband said he wanted a cable knit sweater. We talked about it and decided he'd rather buy one because I had another project on the go and wouldn't be able to knit one for him in the foreseeable future. Fast forward to the beginning of this year. I'd just finished a project and had that post-project urge to JUST KEEP KNITTING. He hadn't found a sweater he liked yet so I narrowed down options that met his specifications on Ravelry and we took a trip to the wool store in January. On November 16, he finally got his sweater.
It's such a thrill to finish a knitting project for someone else and have it fit perfectly. It was a lot of work getting to here though. The pattern he liked turned out to be an out of print Dale Garn pattern with the most minimal instructions I've ever encountered. There were no written cable instructions just a low resolution chart with symbols that I could not decipher. So on top of this being my first real cable knit sweater, I also had to learn to draw my own cable chart. I agonized over the pattern and what size to make him for WEEKS before I finally casted on in mid-February.
I ended up choosing a stitch count between the L and XL sizes. It was a bottom-up knit in the round. I ignored the length measurements from the pattern and went entirely off his body measurements. I made him try it on before I split for the arm holes, before I finished the front neck, before I finished the back neck and shoulders, and after the first sleeve. At each stage, I made changes, adding or removing rows or changing shaping before proceeding.
I extended the upper back, reduced the length of the upper front and took the back neck and shoulder shaping from another pattern to effectively give the sweater a forward shoulder adjustment. It worked a treat and keeps the back neck up against his neck where he likes it, lowering the neckline enough in the front so he doesn't feel like it's riding up on his neck.
The other major change I made was to the sleeve caps. I knit the size L sleeves and am glad I decided to knit them one at time. They were also knit bottom-up. At the sleeve cap of the first sleeve, I felt like the decreases were taking place much too slowly. The sleeve cap seemed excessively long. We'd raised the armscye of the body to have a closer fit than was maybe intended but the sleeve cap still seemed excessive. I was still able to get the sleeve to fit the opening, but when he tried it on it was as I'd suspected – the sleeve was about two inches too long.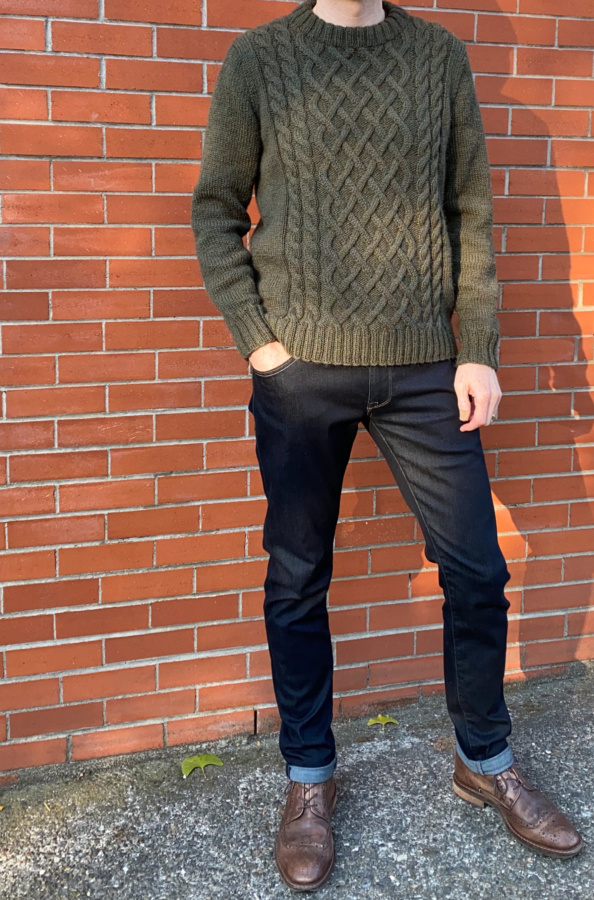 I started the second sleeve before frogging the first so that we could compare them. I ended up taking an inch and one of the increase rows out of the sleeve length before the sleeve cap and reworked the sleeve cap to have a slightly shallower shape, effectively reducing another inch from the sleeve length. Sleeve two turned out perfectly so I remove the first sleeve, frogged it back to just before the last increase row, and matched it to the second.
The changes I made on the fly were a pain in the butt, but also so worth it. It's the first time I've really modded a sweater knit the same way I mod a sewing project and it made the final product so much better. I love it but, more importantly, so does he. It looks great on him and is far nicer than anything he'd have been able to buy from a store. I'm really proud of this make.
The yarn is Drops Nepal in the colour Forest Mix. It was his first choice when we walked into Beehive Wool Shop and they had just the right number of balls. We bought 17 balls and used almost 16 – I always like to have one to spare and it's probably enough to get a tuque out of. It's a gorgeous 35% superfine alpaca and 65% wool blend with brown and blue intermixed. The added colours give a subtle depth to the green that really makes this wool stunning. It looks quite different in different lighting but is always a great colour. I used 4.5mm needles for all of the ribbing and 5mm needles for the body and sleeves.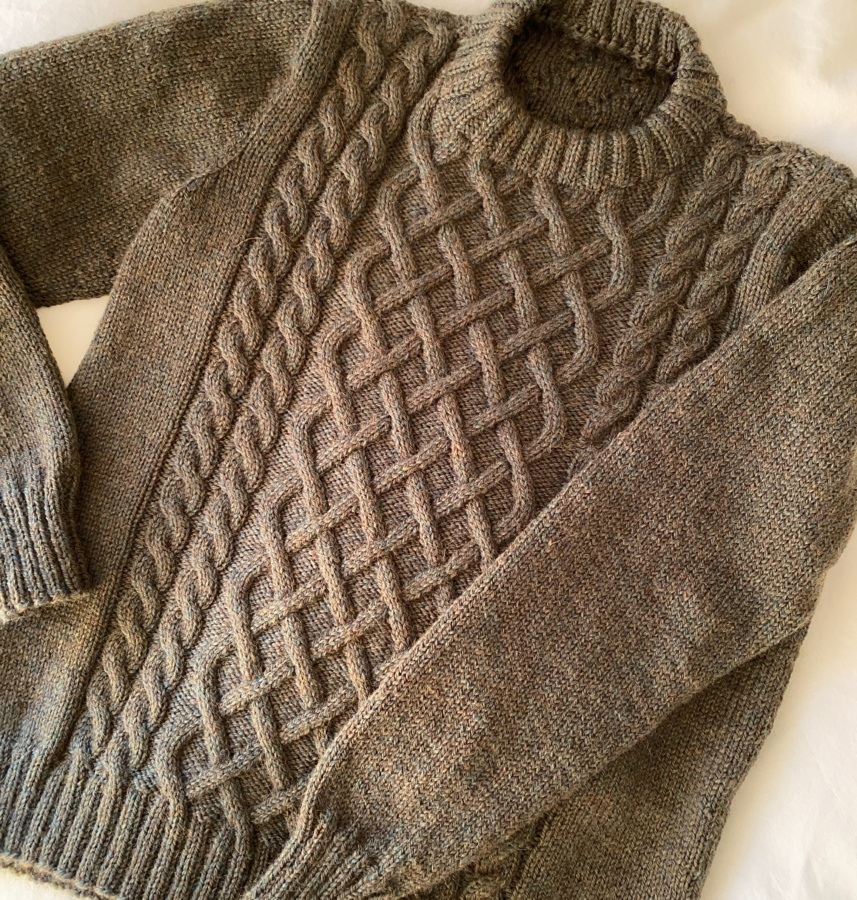 Now if the yarn for my next project would please arrive soon, I'd just like to keep knitting…
Thanks for stopping by!
~ Lindsay
P.S. I've turned off comments on my blog so the best way to connect with me is instagram or email. I have been inundated with spam for years and I finally got tired of moderating it and trying to sift through it for real people's comments. It's always lovely to hear from you though so please feel free to reach out.