When I made my navy blue Penny Dress, I'd always intended to transition it to fall with a coordinating sweater – and I knew which sweater I wanted (even though I was still mid-way through my husband's now-finished but as-yet-unblogged Little Wave Cardigan… I'll get it up eventually, I promise). It was the Petite Knit Stockholm Sweater. A clean, simple, easy knit to follow up on the very involved, nine-month knit that my husband's ended up being. So I bought the pattern and longed for the day I could start.
I chose a camel-coloured, 85% merino/ 15% camel wool, milled in Italy from the Gathering Yarn One Shot Series. I liked the wool for itself but also had to have it as soon as I realized I could have a camel camel sweater! The skeins were 300m/50g and I used almost six of them. This was a very affordable sweater – each skein was only $8.95 from the Beehive Wool Shop here in Victoria.
I knit a size small (the second size on the chart) and modified the length to hit my natural waist so that I could wear it over my dress. Overall, this was an easy knit, which is good because, especially after the Brooklyn Tweed Little Wave pattern, the Stockholm instruction were sparse to non-existent. I do not recommend this pattern for a beginner knitter. It could be a translation issue but I feel as though I'm a fairly experienced and capable knitter and still found the instructions to be lazy and annoyingly incomplete.
The poor instructions aside, my biggest issue with this knit was that it became more and more "off-grain" as I knit. It was exactly like a t-shirt that had been cut off-grain. Sewists will know exactly what I mean and that there's nothing you can do when something is cut off-grain, it will always be off-grain. Here's a picture for reference.
No matter how I pulled and twisted it, I could not get it to be "on-grain". I googled it and came up with nothing – I didn't even know what words to search. I showed my mom (a VERY experienced knitter) and she was amazed. She'd never seen anything like it. I was freaked out about continuing so I decided to pull it off the needles and block it to see if blocking could save it. I breathed such a sigh of relief and did a little happy dance when it did! It took a lot of pins but I was able to work it back into alignment while it was wet and, so far, it seems to be holding grain.
This second photo was taken after blocking and after I finished the body. You can see the knitting below the blocked section is off-grain again but interestingly, the rib is straight. This is a two-stranded knit and my hunch is that it had something to do with the way the two strands of my yarn interacted. I'm so thankful that blocking saved this because I was at a loss (and very distraught) when I realized what was happening. Has anyone else experienced this? I can't be alone…
After I sorted out the grain issue, I was so compelled to knit this sweater that I was spending every waking hour (that I wasn't at work), knitting in my special chair overlooking the city through our bedroom's bay windows. And then I injured myself… from too much knitting… that's part of why I've been so silent here recently. After a lengthy break to recover and a much-needed reevaluation of what a sustainable amount of knitting was for me, I picked it back up in mid-November and finished at a more sustainable pace within a few weeks.
Thankfully, this make came together much faster than my husband's cardigan, even with a four-week break due to injury, the limited instructions and the aforementioned off-grain issue, and I love it. It works perfectly with my Penny dress, as intended and will become a staple item in my fall/winter wardrobe. I'd also like to knit it again but single-stranded this time and I might go up a size, or just a needle size to get a more slouchy fit.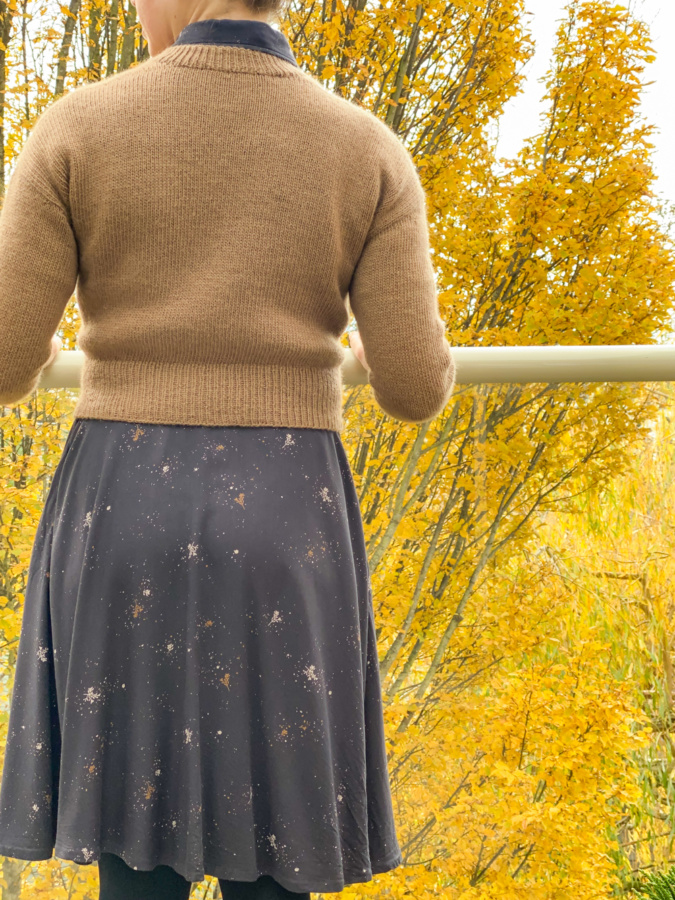 It's been a while since I updated my blog. I'll try to catch up on the projects I've missed since the summer soon. In the meantime, thanks for stopping by!
~ Lindsay