I've decided to replace one item on my Make Nine list – the skirt. After making five pairs of high-waisted jeans so far this year, I'm not really in any need of more bottoms. What I need it tops. I also wanted a pattern that I felt I could modify into a relaxed fit shirt dress. Enter the Closet Case Kalle.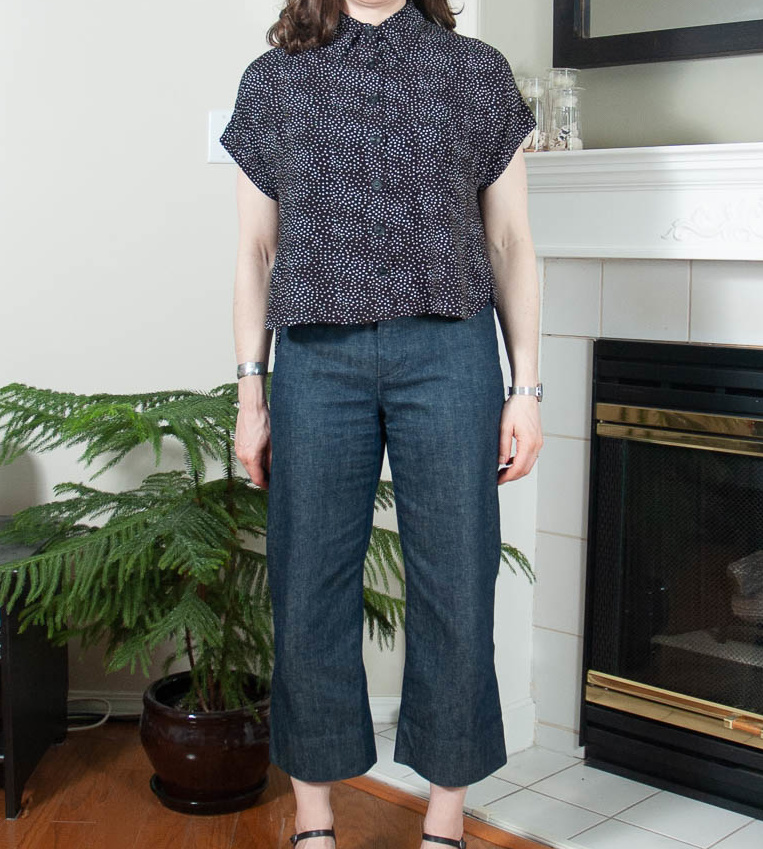 This pattern has been around forever. I think everyone has made it by now so there were a lot of reviews and photos online for me to look at. I went with the straight size 8 and, based on reviews, decided to lengthen the front by one inch right away. Other than that, I made no other mods to this pattern.
After making three Closet Case patterns already this year, I can say the instructions are always great, as are the PDF patterns. This project came together for me in an afternoon.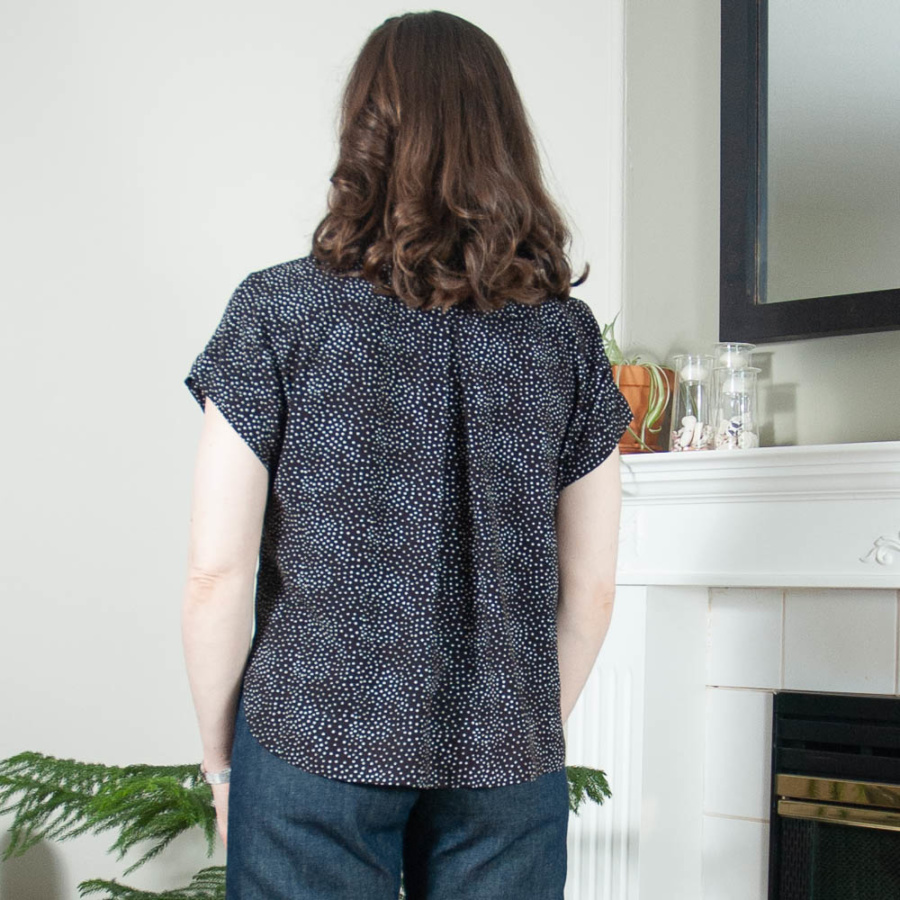 The hem facings on this pattern are really lovely and the back pleat falls beautifully with the drape of this dotted viscose poplin from Blackbird Fabrics. I have the same fabric in the green colourway that I plan to use for the dress version.
The fit is pretty good, I think. The pattern is quite a roomy pattern so it is a bit hard to tell. I probably didn't need the extra inch in the front and could lose an inch or two at the back. The giveaway for me that it might be at least a size too big though is the neck. It isn't obvious in photos but, if you're interested, at the point where the collar sits on me, my neck measurement is 13.5″ (I have never had a thin or swan-like neck). The circumference of the finished, buttoned up collar on the size 8 is 16″.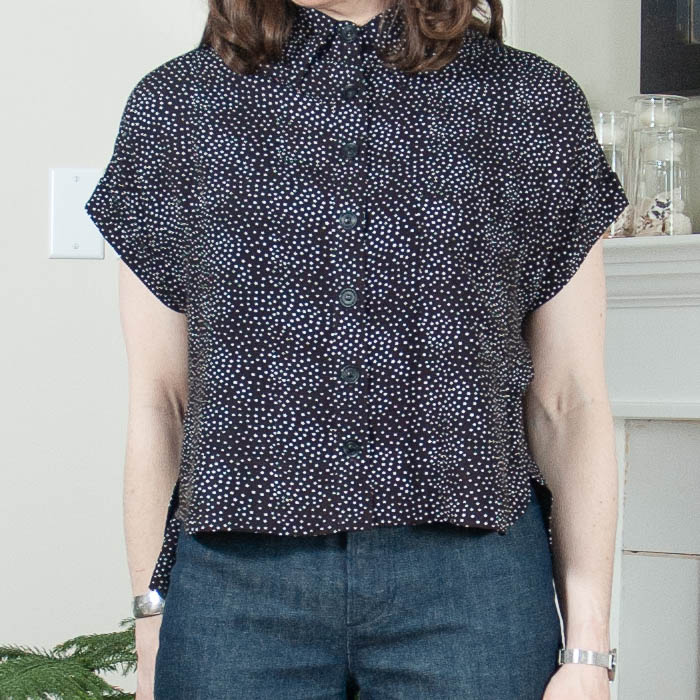 I plan to wear it buttoned and I would like it fitted but not tight. My one complaint with this pattern is that there are no finished neck measurements for you to go on in choosing your size. Otherwise I am happy with how this turned out and plan to wear it a lot with all of my new jeans. I have plans to make a dress version (in size 6) with a less curved hem and a waist tie. Watch for it coming this summer.
This shirt made its first appearance in my wardrobe on the first day of Me Made May so it must be a winner.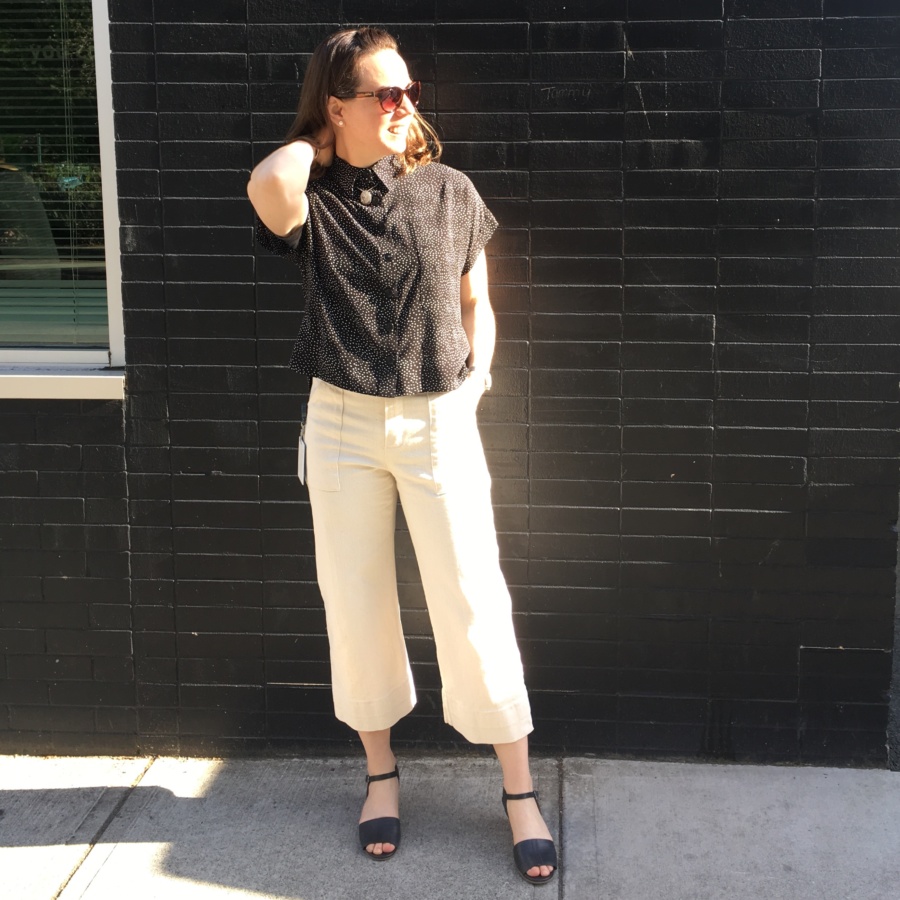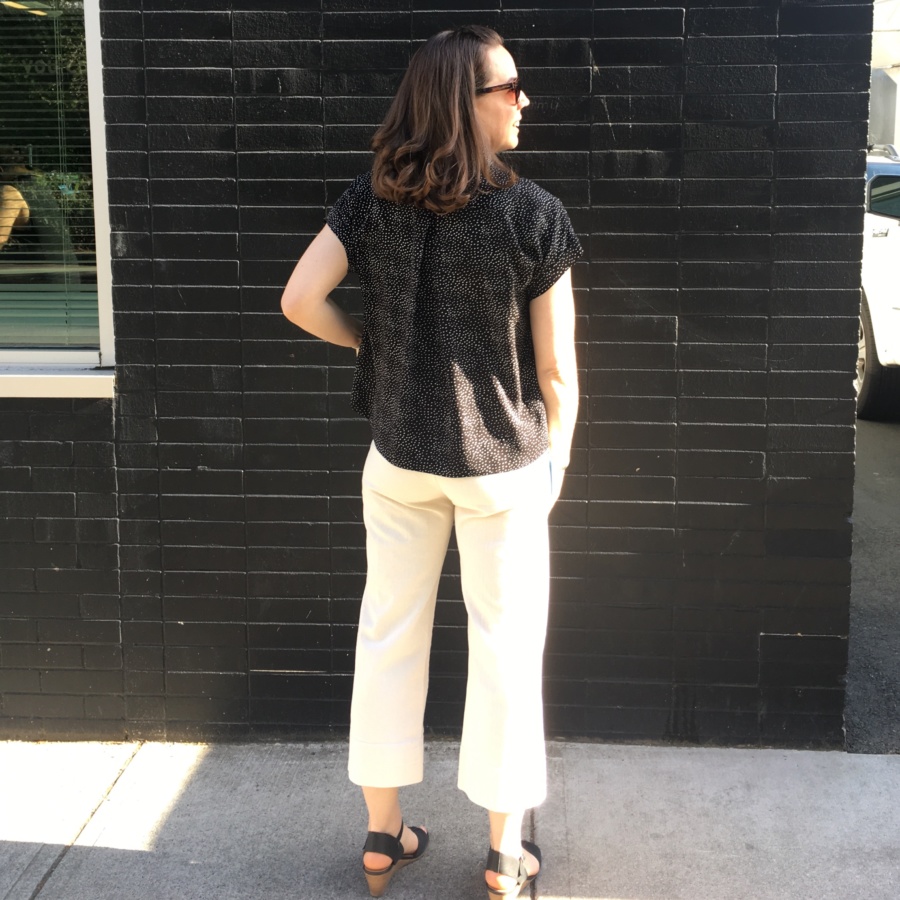 I'm participating in Me Made May for the second year in a row. Last year, wearing and photographing my me-made clothes for the first time helped me to identify some wardrobe gaps to fill: spring coats and jeans. Now that I have my Landers, Gingers, Langers (wearing here), Kelly Anorak and Londres Trench, I feel much better situated for this year. My big hurdle is going to be the loss of my workplace photographer. I switched jobs just after Me Made May last year and left an awesome co-worker/photographer behind. This year my photos will be mostly self-timer and my patient husband. It should still be fun though. I'll have a blog recap of all of my outfits at the end of the month.
Thanks for stopping by!
~ Lindsay