Prior to my recent, quite successful efforts to turn the Megan Nielsen Rowan top/bodysuit into a swimsuit, I also decided to experiment with a knit, high-neck, body con dress.
I've had a vision in my head of this dress – a navy and ecru striped double knit, fitted turtleneck dress – for literally years. One Sunday morning this spring, scrolling Instagram in bed, I finally saw the exact fabric from the vision in my head. I immediately bought it from Mood Fabrics online. It's a Saint James knit and wonderfully weighty and opaque. I couldn't resist buying it in the black/ecru stripe as well.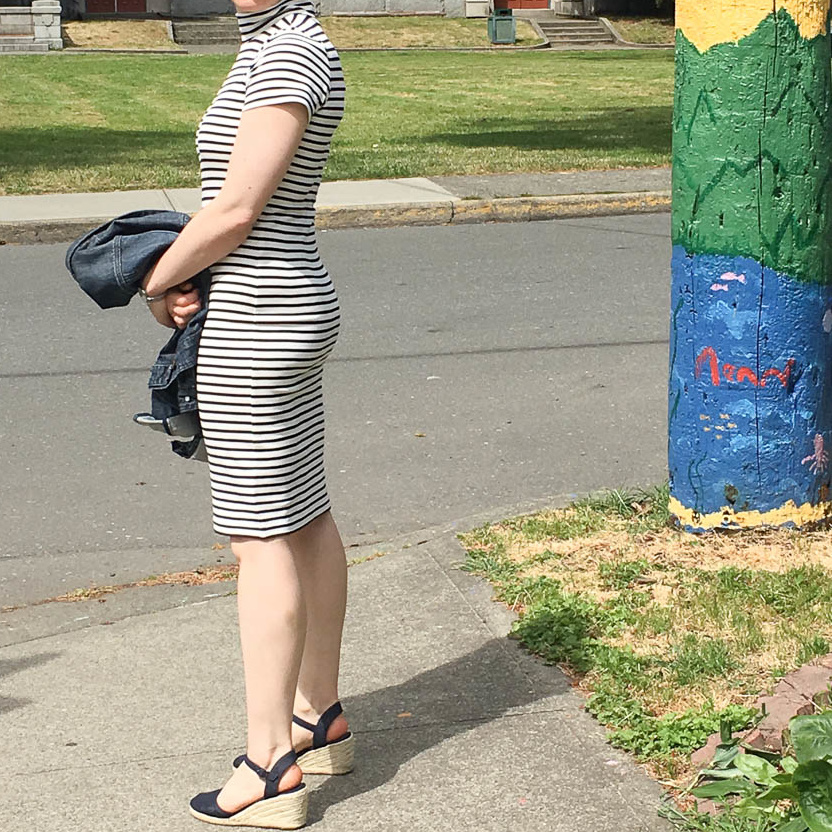 Fabric finally found, the pattern mods for this dress were simple. I started with the size XS based on previous makes with this pattern and the stretch of the material. I extended the side seam straight down from the hip of the Rowan top pattern and extended the centre back the same amount. From my previous makes, I knew the sleeves on the pattern were wide (I talk about that more in my swim post) but I intentionally left them as is for this dress. The only mods I made were the same forward shoulder, high-round back adjustments that I talked about in my swim post.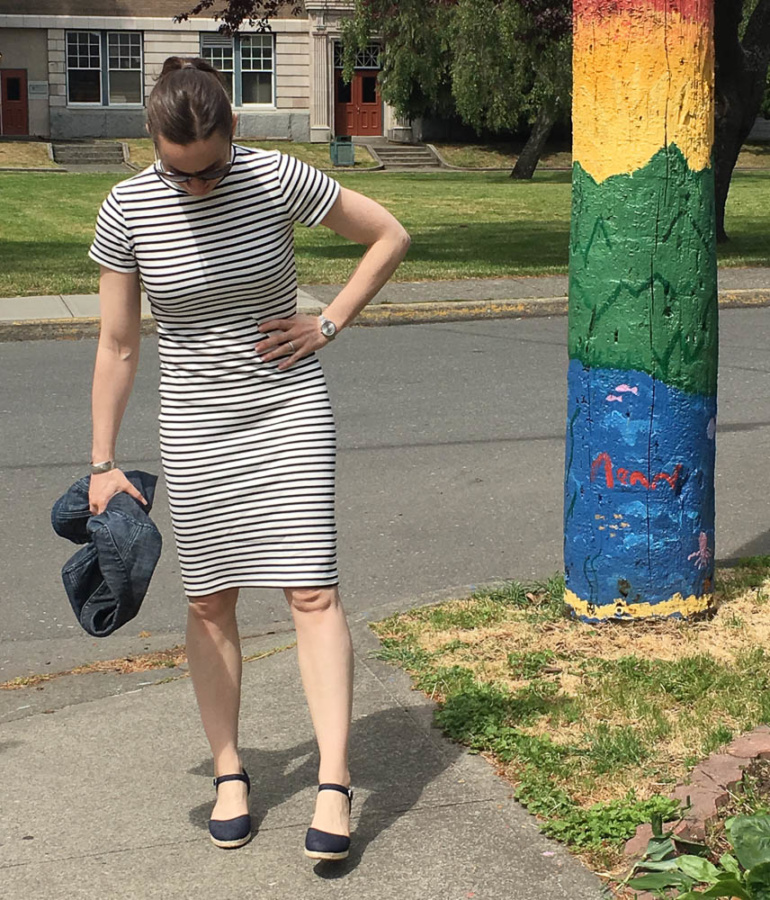 I made this dress at the beginning of June. At the time, I was in the middle of a fairly intense IBS flair up. This flair up was a bad one. My mid section was so uncomfortable and distorted for the entire month of June that I wasn't able to wear any of my beloved Landers, Langers or Gingers, or anything remotely fitted. Nothing I wanted to wear felt good or looked good. I basically switched to elastic waisted culottes and jumpsuits for the entire month.
Why I decided to make this dress during this time, I do not know. Maybe because it had been in my head for so long? Regardless, the photos I initially took of this dress made it really obvious to me that I was struggling with my IBS, and how much it had changed my figure. They made me sad. Instead of wearing the dress proudly like I had imagined, it went into my closet and I fell into a spiral of negativity about my temperamental digestive system and the growing size of my waist that I seemed to have no control over.
But I wanted to share it. And I wanted to share how IBS makes me feel. How it stops me from wearing my me-made clothes, posting my makes, going out with friends, and living my life the way I want to live it.
For the last two months I've been working with a dietician and have thankfully gotten my latest IBS flair up under control. I've been been on a restricted and specific diet that has been a lot of work but I've seen pretty significant changes as a result. Most importantly, I feel physically much, much better. And I can fit into all my me-made jeans again :)
Even with my body getting back to normal, I've only worn this dress a couple of times and only with a long cardigan overtop. I'm still incredibly uncomfortable in it. It really challenges my efforts to be positive about my aging and temperamental body. It doesn't look like the body I imagined when I saw this dress in my head. Not the body I used to have. It's been through stuff. It turns 40 next year. It acts up quite regularly. But I am learning to be kinder to it, both in what I put in it and how I think about it. Aside from my IBS, I'm relatively healthy and if I can't celebrate that, what can I celebrate?
So I tried taking a few more photos that didn't have overhead sun creating unwanted shadows. I can see in my face that I'm still really self-conscious in this dress but I'm trying. It turned out exactly as I had imagined, it would be a shame to give up on it now.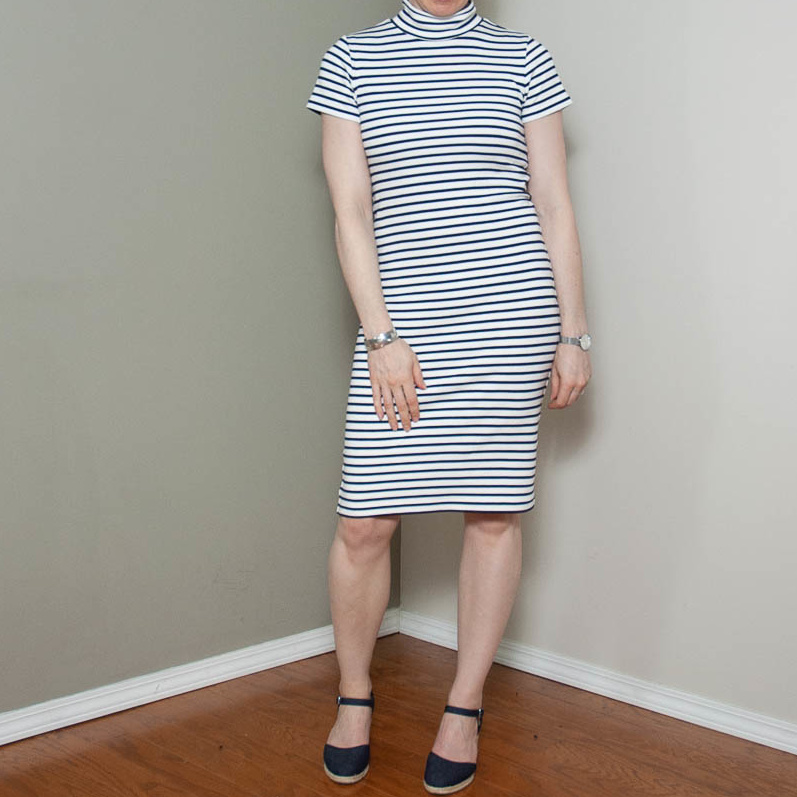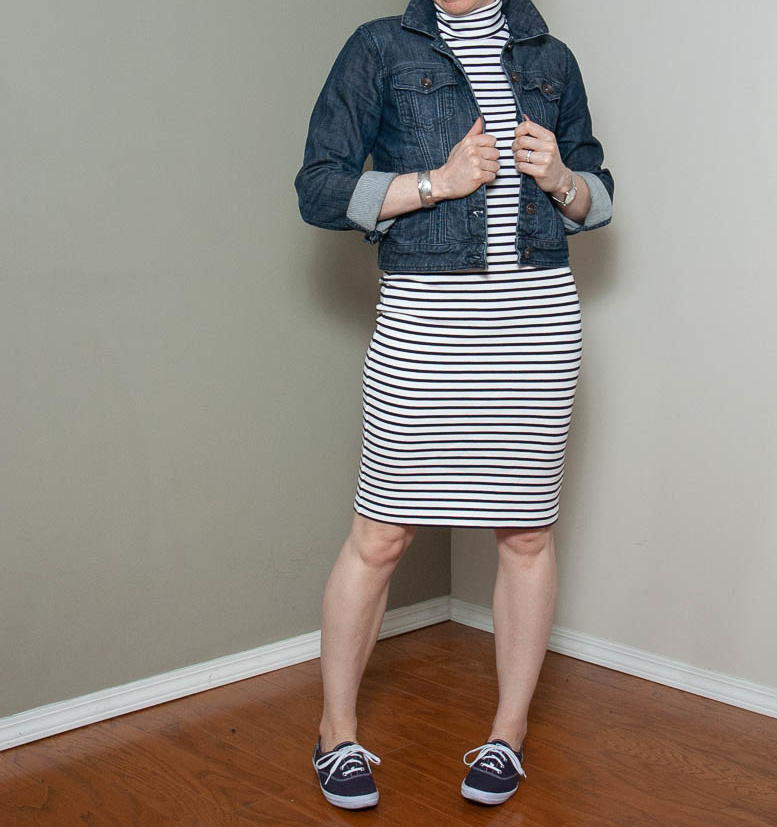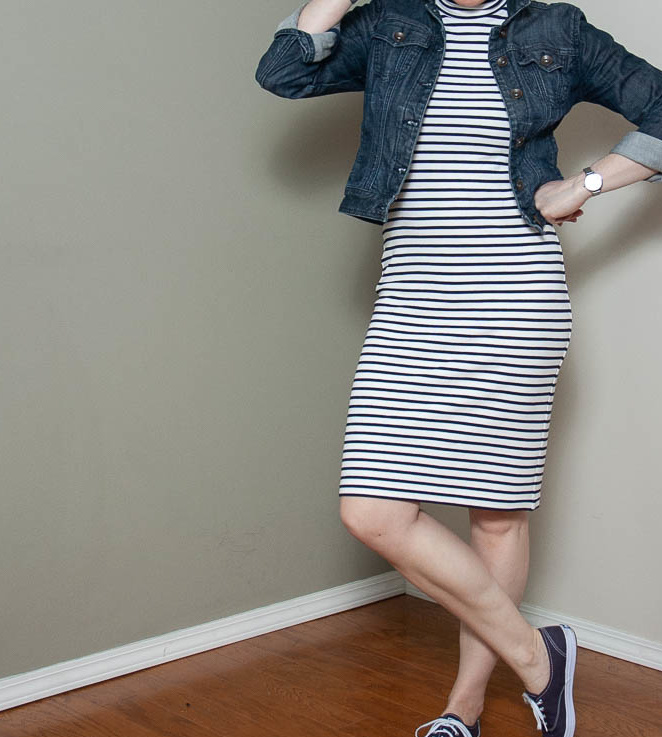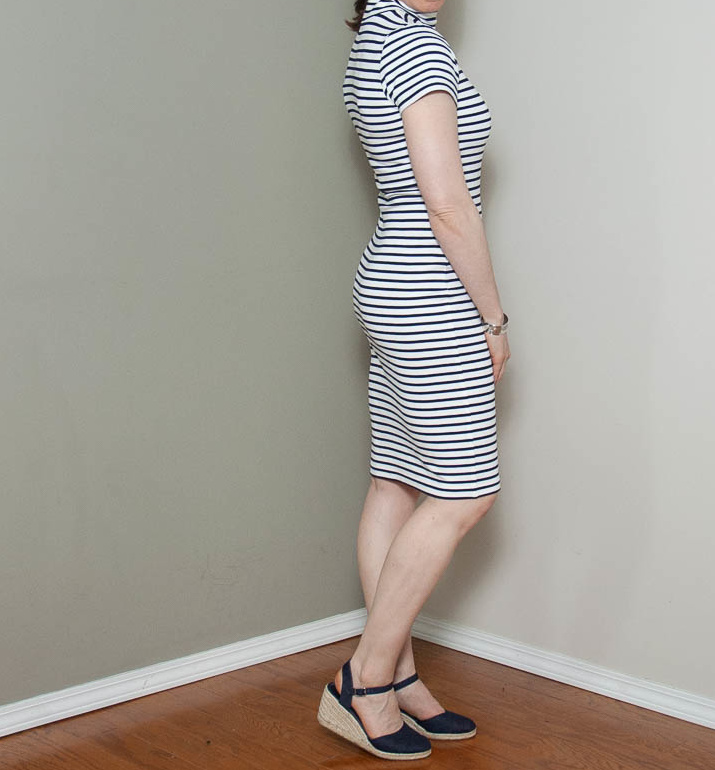 Thanks for listening.
~ Lindsay