It got hot this summer. So hot that I was craving a long, light, loose-fitting maxi dress. I saw this gorgeous embroidered viscose poplin from Blackbird Fabrics and I immediately thought of making a maxi version of the Orla dress (previously made here and here).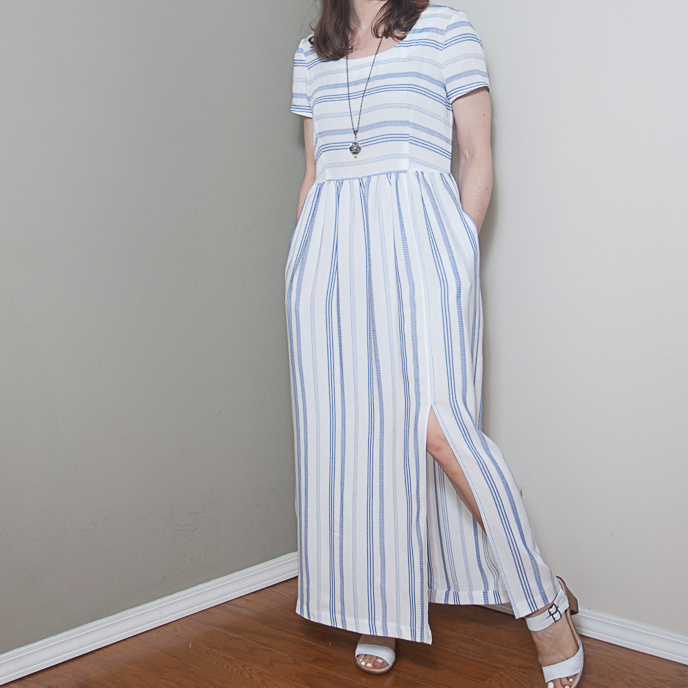 Modifying the Orla was easy. I extended the front skirt pattern piece into one full piece (it comes as a half piece to be cut on fold). Then I cut it 3/4 of the way across to make a right and left piece. I added seam allowance to each piece along the new seam line I had created and then I extended all the skirt pieces straight down by 15.5″. I marked the old hem length on the new front pieces and used this marking to sew the new front seam, leaving the skirt open below the marking so the front skirt would have a slit. I didn't plan to line the slit up with the bodice dart but it ended up matching up perfectly!
I decided to cut out the bodice with the embroidery running horizontally and the skirt with it running vertically. I cut the bodice just slightly larger at the waist than usual so it wouldn't feel too tight in the heat and I used white rayon lining for the pockets because the stripes on the fabric would have shown through. I also added facings to the neck, which I interface to give a little more structure to this very light fabric. Otherwise, I sewed this up just like the regular Orla.
I love the way the two-way stripes look on this dress. It turned out exactly like I envisioned and it was a super easy make. When I got the Orla pattern I knew it would end up being versatile and I'm so pleased with this minor hack! Have you hacked an Orla or made a maxi dress out of another pattern?
Thanks for stopping by!
~ Lindsay