There was a definite theme to my last Blackbird Fabrics order. Aside from the viscose poplin I used for my Orla maxi dress hack, my other four purchases were linen blends and all fabrics were blue, white, ivory or blue and white. I also raced through this fabric order faster than I've ever done before. In part because the fabrics were lovely but mostly because I had purposely chosen them for four distinct projects, for each of which I already had patterns.
These makes are all together in one blog post because I photographed them together and because I made at least some of them to go together. For the Grainline Hadley review, scroll down to make #4.
Linen make #1 – Modified Tessuti Jane dress top
This make originated as a toile for a top that I intended to make for a friend (see linen make #2 below). I wanted to try it out first so decided to make a version for me in the same fabric that I intended to use for hers (a linen viscose slub). The pattern I used is the Tessuti Jane dress. I chose it because I already had the pattern, I knew that the dress version fit my friend well, and I thought the neckline would translate well into a top.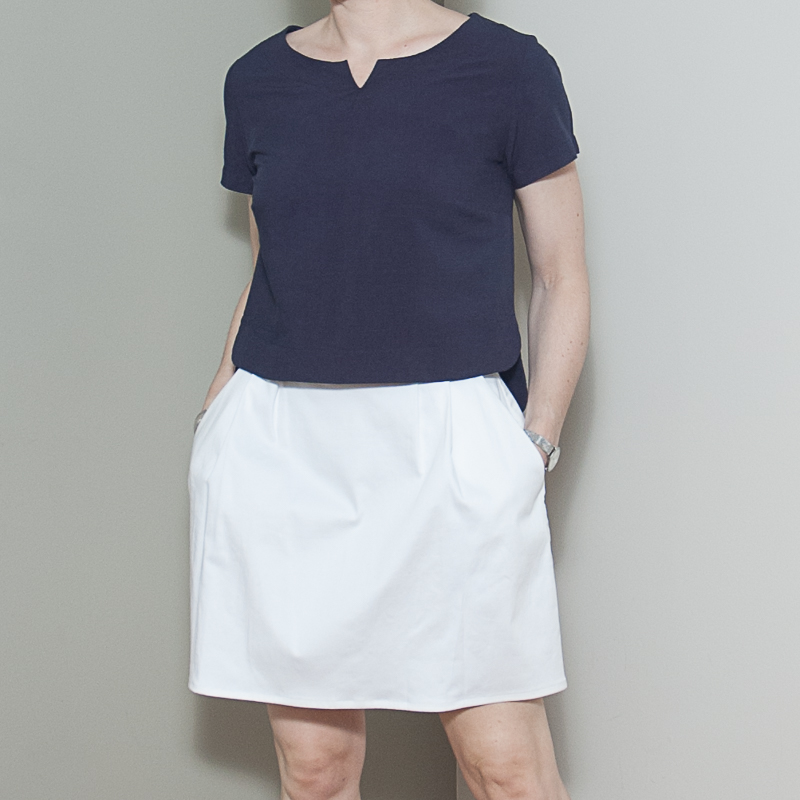 The main mod I was testing out was making the pattern symmetrical (i.e. removing the insert that is the main feature of the dress). To do this, I folded the pattern pieces down what I approximated to be the midline and mirrored the non-insert sides to make symmetrical pattern pieces. I also played around with a faced, curved, high-low hem.
This fabric has a slight stretch running with the selvage and, had I been thinking further ahead, I would have cut the pattern out perpendicular to the grain to have the stretch running across rather than down. It's not a deal breaker. I still like how this top came out but I did correct this on my next version. I decided to double-interface the neck opening on my next version as well.
Linen make #2 – Modified Tessuti Jane dress top (this one for a friend)
I made a friend of mine some Ninni culottes earlier this summer and we decided she needed a white linen top to go with them. Luckily, I had already made this friend the Tessuti Jane dress so knew that it would fit her. I used the same linen viscose slub for this top (in white) that I had used for my 'toile' above and I hacked the pattern the same way as described above as well. The only differences for this top are the double interfaced front neck cutout, 3/4 sleeves, and a longer, split hem with mitered corners. Oh, and I also cut this one perpendicular to the grain so the slight stretch this fabric has runs horizontally instead of vertically.
I am ridiculously proud of these corners. It helps that the fabric was a dream to work with. It's a good thing this top has now gone off to its owner or I would be constantly flipping up this hem to look at my handy work! Luckily, this top fits my friend perfectly and I wasn't even tempted to keep it after seeing how happy it made her.
Linen make #3 – Ninni culottes
As noted above, earlier this summer I made a pair of Named Clothing Ninni Culottes for a friend of mine. The fabric I used was the black pinstripe linen Tencel blend from Blackbird fabrics and I was so enamoured with the fabric that, before I even finished, I had ordered more (along with the other fabrics in this post). For mine, I ordered the navy pinstripe version.
This fabric is a dream. It was a tiny bit of spandex for a modest amount of stretch but its drape is what really gets me. It feels so luxurious to wear! For these Ninni's I used the same mods as my earlier toile. I also took about one cm off of each side of the inner and outer leg seam and I didn't sew over the waistband elastic, choosing instead to cut the waistband to fit the elastic I intended to use exactly and using the close fit to keep the elastic in place.
I really love the slightly narrower width and the flatter waistband on this version. These pants have quickly become an ultimate fave. So much so that I wore them at my first day at my new job earlier this month (if you were following along during Me Made May you might remember I was looking for a new job. Well, I found one and it's going really well so far!)
I know these two fabrics don't really match but I couldn't help wearing them together. They both feel so good!
Linen make #4 – Grainline Hadley top with multiple mods
To go with my Ninni culottes, I wanted a cropped, white high-low top and I decided to try the Grainline Hadley using the silky viscose linen in ivory from Blackbird Fabrics.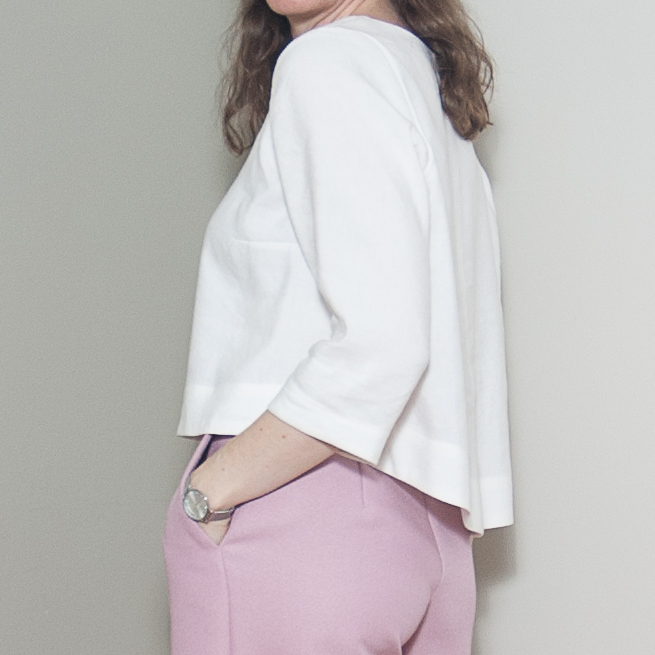 This is another gorgeous fabric that turned out to be just perfect for this pattern. I was lucky to have been able to try a Hadley top on at a local shop (in size 6) so I could make the mods I needed without first making a toile. Here are the mods I made (I started with a size 8, high-neck view without the back pleat):
dropped the armholes by 1.5cm on both the front and back pieces
also lowered the edge of the sleeve curve by 1.5cm on both sides to match the new armholes
brought the hem up to work as a cropped length and the sleeves up to 3/4
re-drafted the hem and sleeve facings to work with the new lengths
drafted a new neckline that was between the two versions provided in the pattern
re-drafted the neck facings to match the new neckline
I sewed everything on this top with french seams except the armholes and I am so pleased with how it turned out. The facings really make this pattern special and the mods made it exactly what I was hoping for.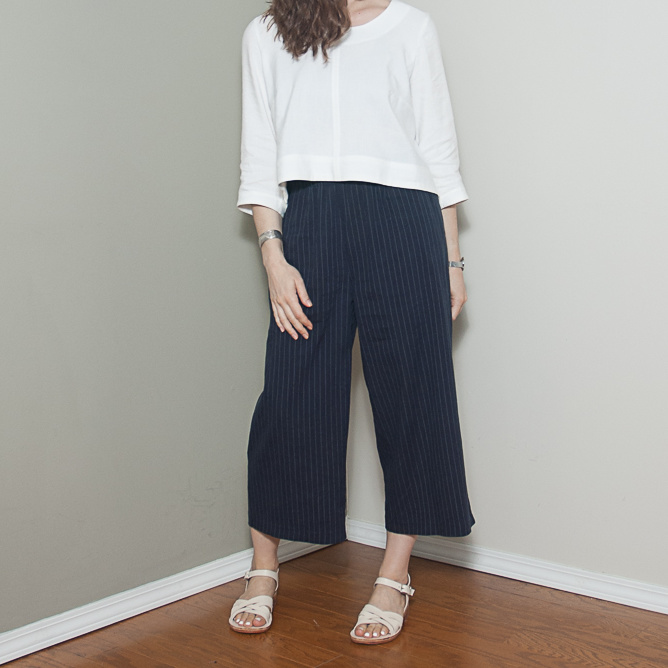 That's it. Along with my Orla Maxi hack, that makes five makes, in one and a half weeks, with five fabrics. It helps that I was in between my old job and my new one for one of those weeks. Aren't sewcations the best?
Thanks for stopping by!
~ Lindsay