I've finished my very first Closet Case Patterns garment! Yay! I don't know why I waited so long and I didn't start on the easiest one but here it is… my Fiona dress.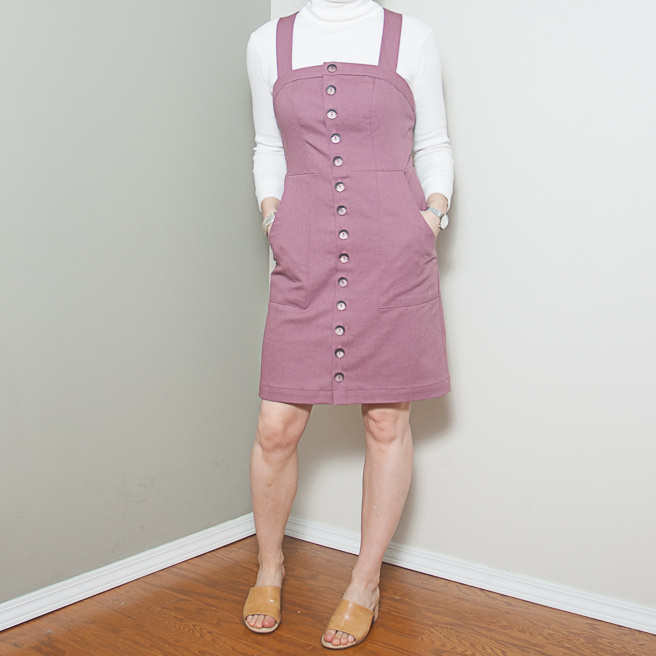 This make started out great. The PDF pattern was the easiest and clearest I've ever worked with in terms of sticking together. The Japanese cotton twill from Bolt Fabrics in Portland (purchased on a recent trip) was beautiful to work with. I cut my size according to the measurements, grading down in the hips like I always do. The pattern says it is drafted for a B-cup, which is what I am, so I cut it as is. I chose not to do a toile because I figured the only direction I would have to go was smaller and the princess seams in the bodice would make alteration pretty easy. I was mostly right.
I don't know how, but the bodice turned out way too big for me. I was surprised because the pattern measurements were right on for my bust and waist. The other strange issue I had was that the back of the bodice sat way too high and the front was about an inch too low. It was very odd. It didn't follow my waistline at all. Maybe this is something about my shape that I didn't know? I've never encountered this before. Unfortunately, I didn't have enough fabric and was too far along in the process to lower the back bodice once I'd realized it, so I reduced the back bodice seam allowance to almost 0″ and increased the front bodice allowance by 5/8″ (leaving the skirt seam allowance at 5/8″). This alteration brought the waist seam back to horizontal, much to my delight and relief.
To reduce the extra fullness in the bodice, I took in the top band by about 2″ and drastically reduced the volume in the bust and waist along the princess seams. I wasn't able to get the back bodice to hug my lower back quite how I wanted but that ended up being the only lasting fit issue after all my alterations and it's not horrible. After all the work I did to get the bodice to fit, I also noticed that the pocket on one side no longer lines up with the princess seam in the bodice. I left it. Imperfection is something you learn to live with in sewing, right?
I definitely salvaged this make. More than salvaged it, I kicked butt on it…  but I also learned a couple of lessons. Firstly, I probably need to size down in the bust for Closet Case patterns. Secondly, toiles are a good idea. I knew this already, but I REALLY dislike making most things twice (Orla dresses, SOI shift dresses and Ninni culottes aside) so I rarely do it! Maybe I should start. Maybe. I love how this dress turned out though so I'm still not totally convinced I need to. What camp are you in – toile or no toile?
Oh – I forgot to mention! I lined the skirt with Bemberg rayon because I envision this as a winter dress to be worn with a turtleneck and tights. Bring on autumn :)
Thanks for stopping by!
~ Lindsay