Button up shirts are one of my least favourite things to make. There are just so many parts… and so many buttons. They aren't difficult, they're just time consuming. With that said, I keep volunteering to make them for my husband and others so I must not hate them as much as I think I do.
I found this very special dead-stock cotton shirting at the same time as my Robert Kaufman twill from Match Point Fabrics and I immediately knew it had to be a summer shirt for G. He wasn't so sure when I showed  it to him online but I ordered it anyway and he loves it now. The fabric is a dense weave cotton in navy and white check. It was a pain to pin because of the density of the weave but it was great to sew with.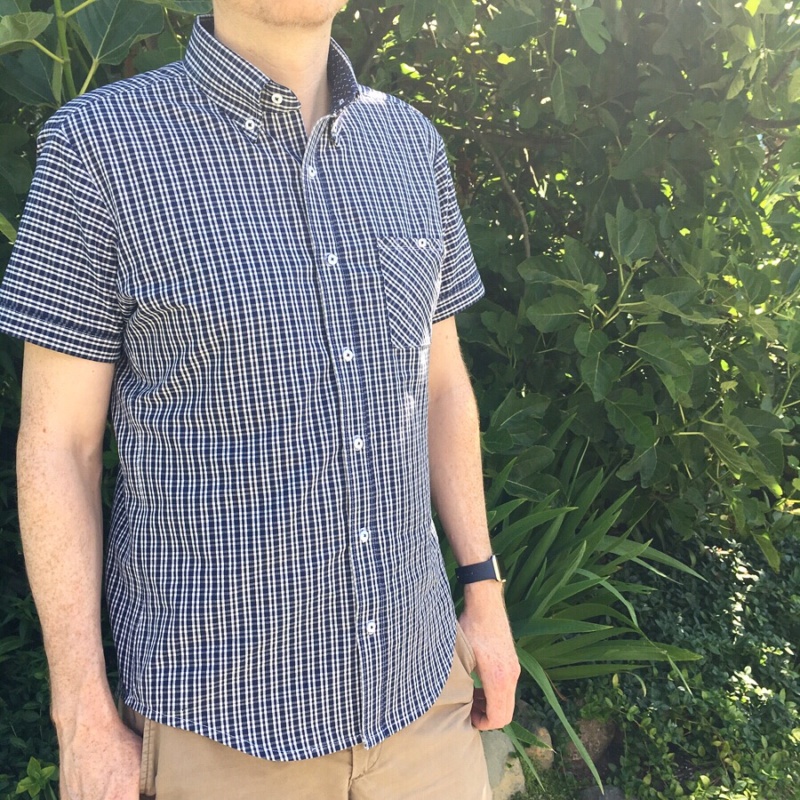 I used the same pattern for this shirt as I did for his most recent long-sleeved shirt but obviously modified the sleeves. The pattern is one that I developed by cutting apart and tracing an old Uniqlo shirt that he liked but had worn out. Come to think of it, I've actually never made him a shirt from a pattern. This way seems to work so we're sticking with it.
I was a little short on fabric so I ended up cutting the sleeves on the cross grain to make them fit. The other custom parts of this shirt are a bias-cut pocket with sunglasses section, contrast inner collar stand, flipped up cuffs and front button placket, and contrast, x-sewn button thread.
I do really like making custom shirts for him. He wears them proudly and happily tells people where he got them. That's enough of a reward to continuing making my least favourite thing.
Thanks for stopping by!
Lindsay