I first had this idea in the late winter or early spring⎯a fitted princess seamed bodice with straps, a gathered midi skirt and a button front. I debated briefly whether or not to look for a pattern before deciding to shop my existing collection. The Fiona dress from Closet Core came to mind right away for the bodice and button front. I've made it once before in pink cotton twill so I had an idea of the fit mods I'd need and I decided to give it a go. I searched far and wide for the right colour green and found this linen/rayon blend at Dressew (online).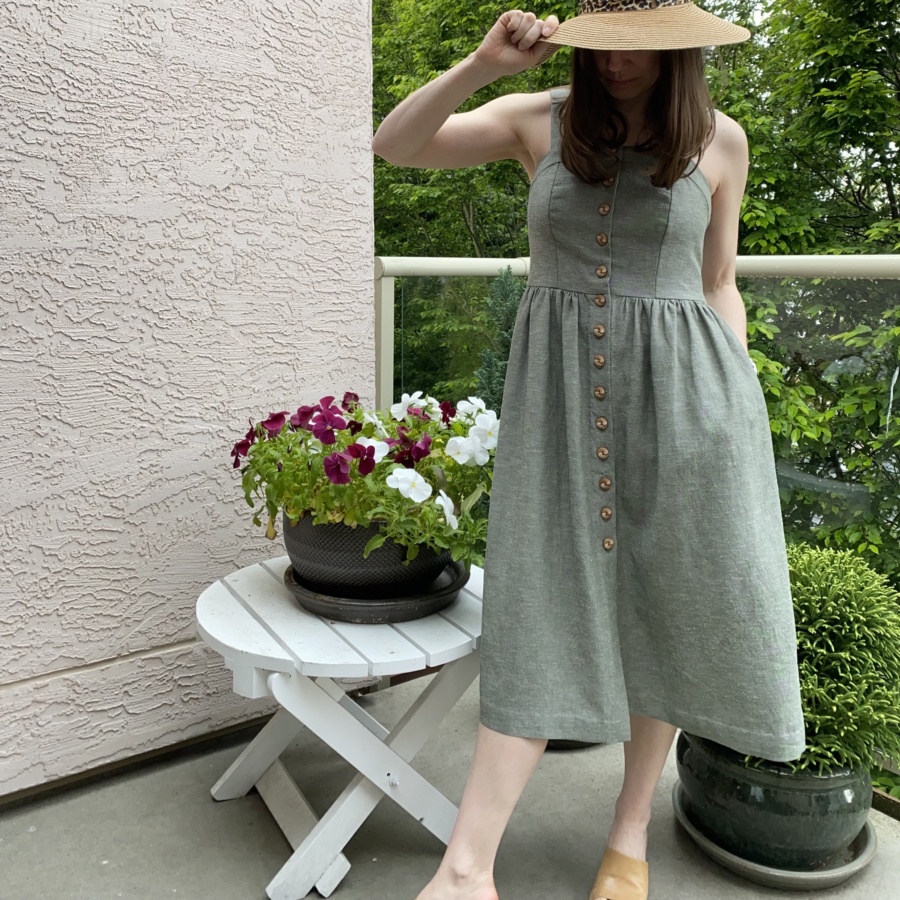 I knew from my first try with this pattern that the bust fit me but the high bust was much too large. I fitted this one quite carefully and interlined the bodice pieces with an old cotton sateen bed sheet. I did this for structure as the main fabric had some stretch and I worried it would lose its shape over time. I may have over-fit a bit in the end. It fits without gaping but the top band is a bit tight when I wear a bra with it. Nothing drastic and I left it with some ease at the waist for comfort.
I wanted to potentially go braless on hotter summer days, which was my other reason for interlining it. I thought the extra coverage would make me more comfortable. It's worn in these photos with one of my Watson Bras.
Here is a full list of my sizing and mods:
Closet Core Fiona, view A, size 8
Lowered the bust point slightly and took a small amount from the fullness by slightly changing the curve of the centre front pieces
Reduced about an inch (half-inch each side of the seam) from each of the two front princess seams, above the bust point
Used the front band pieces without modifications and just trimmed the excess
Interlined the bodice pieces before sewing them together with an old cotton sateen bed sheet
Hand-felled the bodice seams. top band, plackets and hem
Cut three rectangle pieces for the skirt, based on what fabric I had left
Mitred the bottom front corners of the skirt
Added side seam pockets, extended to the front waistband
Used 14 gorgeous buttons from Gala Fabrics⎯5 for the bodice and 9 for the skirt
Summer is nowhere near but I'll be ready for it when (if) it arrives. It's been a cold, wet spring in the pacific northwest but I haven't minded. It meant I finally got to wear pants and jackets for Me Made May and the cooler weather will protect our province from much of the devastation last summer brought. If summer weather doesn't arrive this year, I imagine this dress will look just as cute under a jean jacket or layered over a t-shirt.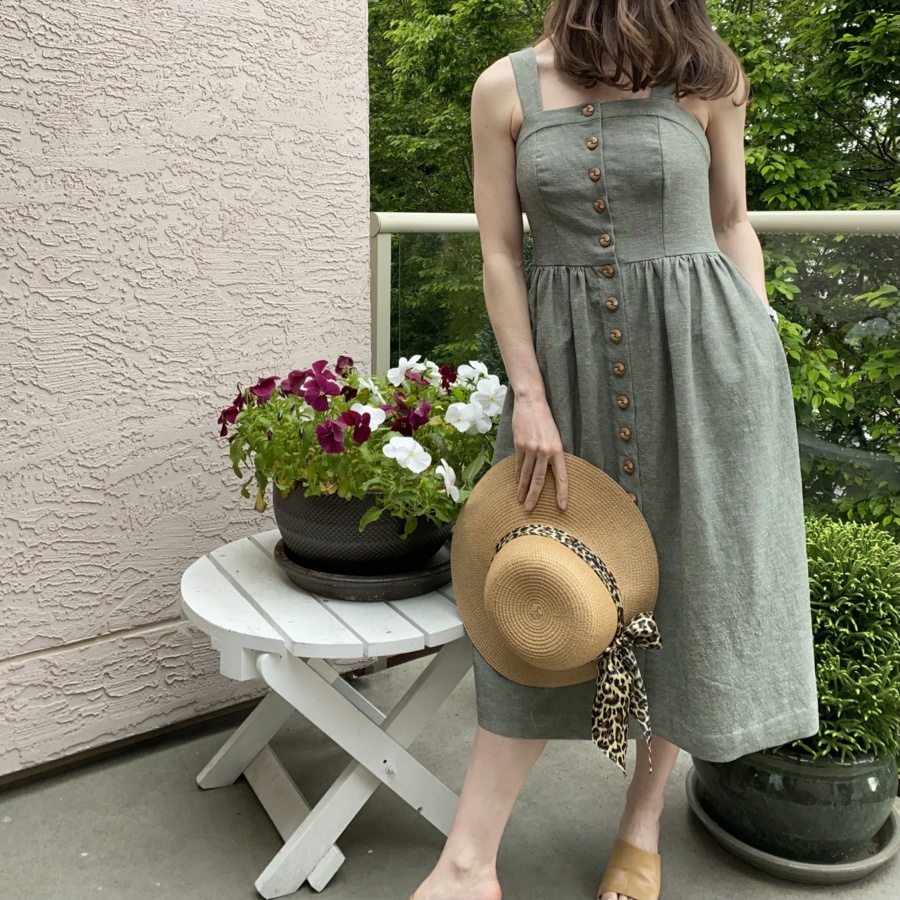 Thanks for stopping by!
~ Lindsay
P.S. I've turned off comments on my blog so the best way to connect with me is instagram or email. I have been inundated with spam for years and I finally got tired of moderating it and trying to sift through it for real people's comments. It's always lovely to hear from you though so please feel free to reach out.