Immediately after I made my first Tessuti Lois Dress back in January , I made plans to try it again. I loved the fit of the top of this beautiful, simple dress but the hips ended up far to large on me. This isn't surprising since I am very much a rectangle/athletic body shape but I delayed the remake because I wasn't at all sure how to modify the pattern. The reason for that? No side seams, just darts. Hmmm…
I've never worked with a pattern that didn't have side seams and it left me at a loss as to how to accomplish my usual hip width reduction. After pondering it for a month, I finally decided to drop a size (I had already made a size down from my measurements on my first try) and change the side angle of the front skirt panel pattern pieces to reduce some of the bulk from the side darts. I also extended the side darts two inches and changed the angle of the side zip ever so slightly as well. More details on that below. The result… I think I did it!
Below is a rough drawing of the changes that I made to the front skirt pattern piece. To keep the right sizing at the waist, I tried to angle all of my changes. I tried to take off four inches in total from the hip width on my previous version. To do this I made two changes:
I drew a diagonal line starting at the waist and ending up about 3″ in from the outside edge at the hem (the long red line in the image below). To get this angle I measured down to where I estimated the skirt would fit my hips and measured inward one inch from there. It was a conservative estimate. I probably could have gone down another inch or inch and a half but I wanted to make sure I kept the flow of the skirt at the bottom. I connected that point at the top corner and brought the line down to the hem.
The second change I made was the length of the side dart. I extended it to end approximately two inches lower on my hip. When I redrew the dart lines to this new point, it took away about a half an inch from each side of the dart resulting in two inches of total width at the hips.
These changes sound a bit complicated but they ended up being fairly straight forward edits to the pattern and together they reduced the width at the hips by about four inches.
Once I made my pattern edits and got the nerve to cut out my fabric, this dress turned out almost exactly as I had hoped. The fabric is a dream. It's a viscose crepe from Blackbird Fabrics that I purchased back in December just for this purpose. The drape is absolutely perfect for this pattern. There is still a tiny bit of excess volume around my hips but you can only really see it from behind (scroll down for the back view). Otherwise, I think I tamed it pretty well with my pattern mods and the drape of the fabric definitely helps.
I could have stretched the bias binding along the neckline a little more.  That's my only complaint with this make. It gapes ever so slightly at the v-neck but I'm pretty small breasted so nothing shows, even without a bra, which is great because the v-neck is so low that a bra would definitely show.
This dress is slinky and flowy and so comfy. I love the way it tucks in at the back waist and under the bust. The length is also something that's growing on me. I used to think I was too short for this length but after my recent Colette Penny and this make, I'm a convert. I haven't worn these makes outside yet (because winter just won't go away) but I can imagine that I'm going to love the coverage when spring and summer come along. Long skirts make so many day-to-day issues irrelevant to wearability. Sitting on the bus? Easy. Windy walk to brunch? No worries! Don't want to shave? Nobody can tell! Screw the rules of what you should and shouldn't wear for your body type. I like it and I'm going to wear it… once the weather gets warmer that is.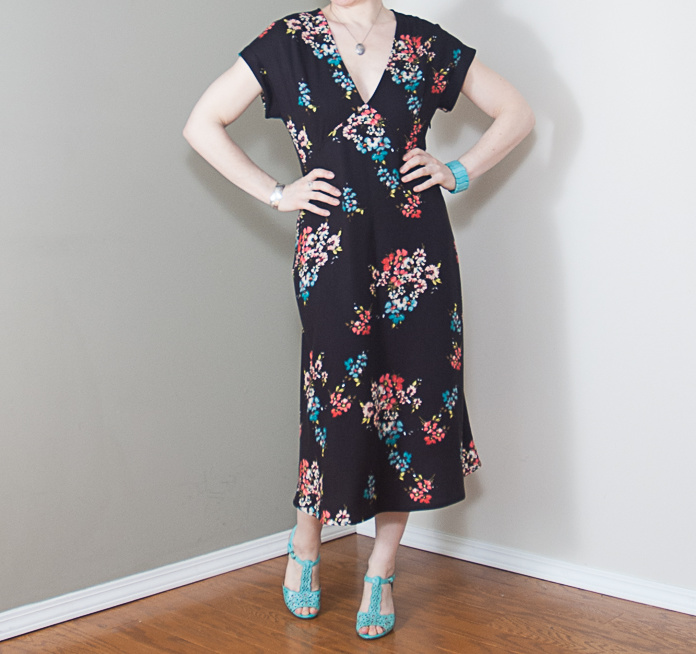 That's all for now. I'm so happy with this make I have to go and plan my next one!
~ Lindsay