I put the Colette Penny shirt dress into my 2018 "make nine" because I wanted to force myself to make it. I knew I might back out otherwise. I've been leery of shirt dresses since I tried a few in my 20's and found them very unflattering on my figure. For the Penny, I decided to go with version 2 – the sleeveless version with a half waistband.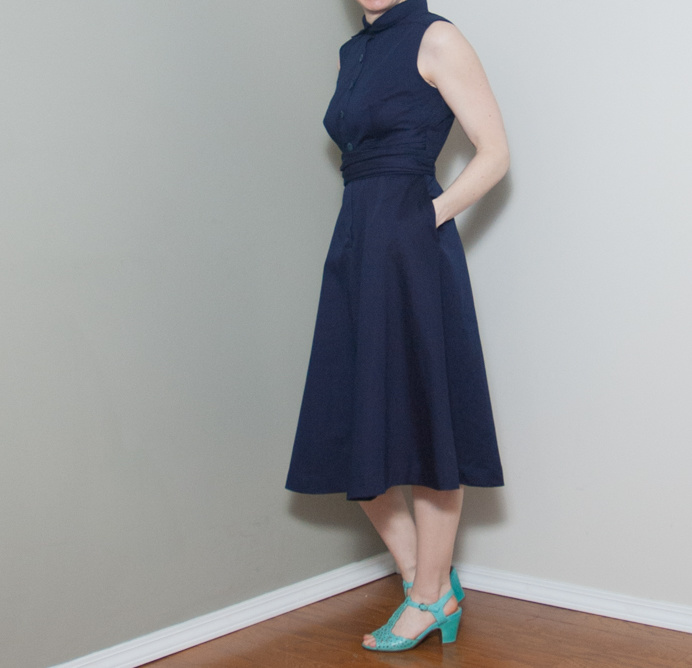 The results: I'm more than ok with this! I seriously debated about shortening it but instead decided to leave it full length for a while to see if I can come around to it. The fitted top and lack of sleeves balance out the fullness on the bottom (I think)… I'm just not really used to the length so it will take some getting used to for me.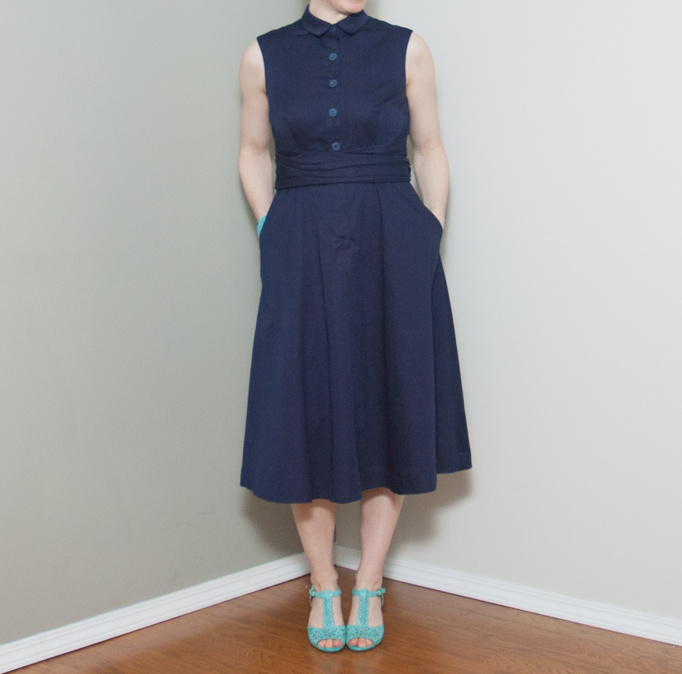 Now a little about the pattern. It is very well drafted and the instructions are great but there are a few things to watch for if you are planning to make this:
It is drafted for a 'C' cup size. I knew this going in but didn't alter it and the bust ended up a little big on me. Not too much, but if I make it again I will have to learn how to do a small bust adjustment or edit the front bodice to have princess seams which I find easier to adjust.
If you haven't ever made a button down shirt before, don't start with this pattern. It has all of the elements of a button down shirt along with the addition of a skirt and waistband, which is a lot to take on if you're a first-timer.
This one is important: Highlight or mark the instruction for your version before you start! The instructions for version 1 and 2 are combined. There is a lot of overlap between the two but there are key areas where they differ and, if you miss that, you mess up. I messed up and attached the sides too early so I couldn't attach the waist band. I ended up having to unpick the sides after I had already overlocked. Save yourself some time and headache, mark the instructions before you start!
Take it slow. Messing up the order of operations wasn't my only mistake on this make. I had to unpick a total of SIX times. SIX! Not due to the instructions, just due to not taking the time to plan things out and think ahead. Shirts are complicated. This wasn't my first shirt but I didn't go into it with enough care and patience and man, I messed up a lot. It was all fixable so I was lucky on that at least.
What I love most about this dress is the waistband that both covers and cinches. It makes me feel much more comfortable and makes button popping, which can be the worst thing with a fitted shirt dress, a non-concern. The pockets are also fantastic. I made this dress out of a lovely navy cotton lawn from Fabricland that I found on sale and got the end of the bolt. Cotton lawn is perfect for this dress because it drapes nicely but also holds it's shape to keep the skirt from falling flat or clinging to the body.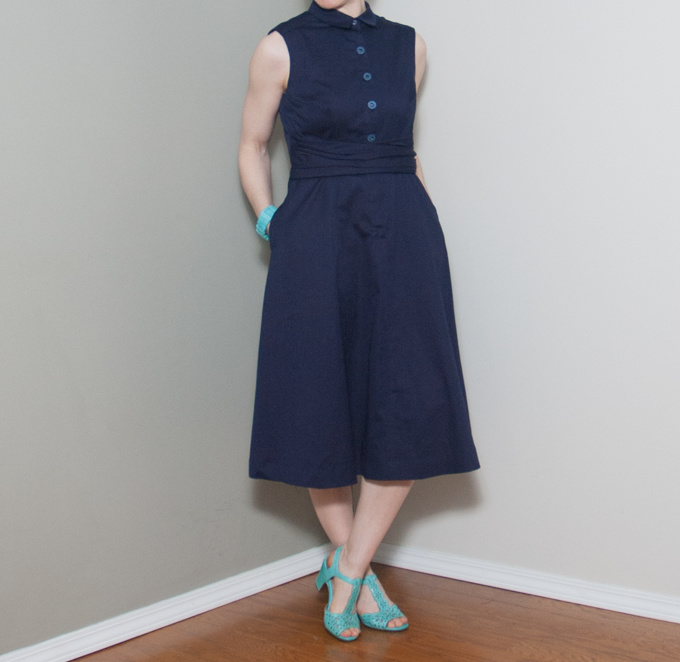 With all the issues I had making this dress… I'm pretty stoked with how it turned out. The collar looks weird in these photos but it does actually sit flat when I wear it. I have to say, I feel pretty glam in this dress. It is too cold right now to wear it outside so I will have to wait to see how it feels when it warms up and I can get a feel for it in real life. Until then…. I've got more projects to get to.
Thanks for stopping by!
~ Lindsay