This dress was an experiment. I knew heading in that an unfitted empire waist probably wasn't the best choice for me. I also took a chance on the fabric which is much bolder than my usual choices. So, as I said, this dress was an experiment and I'll say right now that the experiment failed but I didn't give up. I tried again and came out with something that turned out quite nicely.
First, the fabric:
It is a lovely viscose poplin from Blackbird Fabrics. The quality of the fabric is lovely. It is the same as I used for my Sudley blouse earlier this winter. For this dress though, I just don't think it works. The intensity of the print, with the long sleeves and lack of shape of the dress overwhelmed me. Luckily I ordered enough to have a second shot at it… more on that later.
Now, version one:
The pattern is the Sew Over It Nancy dress – a swing dress with an empire waist and a lovely deep slit at the back. I had my concerns about this style before I even bought the pattern but I went for it out of curiosity. I think I should have trusted my gut. The swing dress style is tough for me. Maybe it's my height (or lack thereof), or that it hides my figure too much for my liking and makes me look even shorter. Or maybe it just reminds me too much of 90's babydoll dresses, whatever it is, I'm just not very comfortable in this style. I think you can see it in my face, I'm just not feeling it. I should have taken a photo standing sideways because that's where the volume really showed.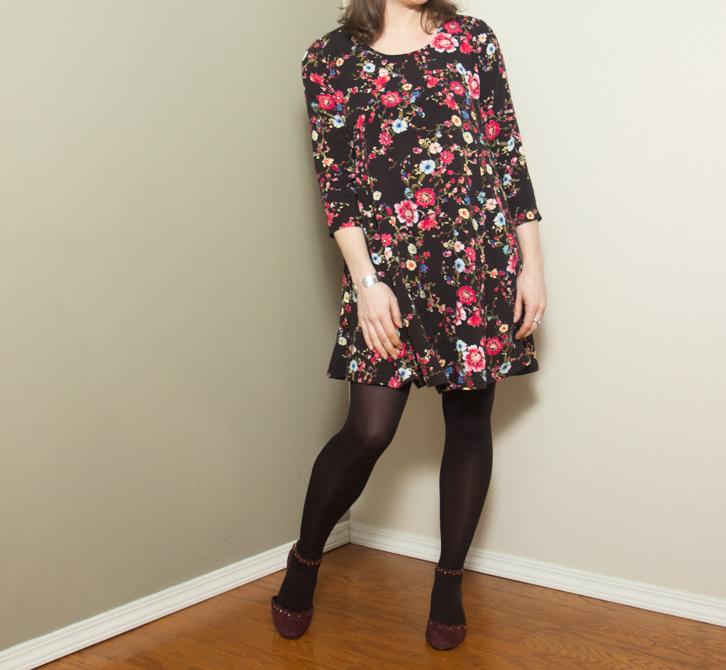 There was just SO MUCH volume and with the intensity of the print and the long sleeves, it just didn't work. I wore this dress out to dinner and I tried hard to rock it but I knew I was unlikely to wear it again. I had about a meter of fabric left and I decided rather than give up entirely, I would give it another, heavily modified try.
Pattern modifications:
For round 2 I started with the pattern. I re-drew all of the vertical seams in the pattern below the empire waist, taking them in significantly down the length of the skirt. I drastically reduced the volume of the skirt. I also added shaping to the actual waist so it slimmed down before the fullness of the skirt began and I changed the neckline to a boat neck. I made all of the changes directly on the paper pattern because I knew I'd never be reusing it as it was. I used the left over fabric to cut new front and back skirt pieces and I had to use the old dress to cut new back bodice pieces and one of the sleeves of the new version. RIP version 1.
Finally, version 2:
Here she is. Slimmer, with short sleeves and a different neckline and though she still isn't my favourite dress, I think this change makes her much more flattering on my figure and more wearable – a keeper if you will.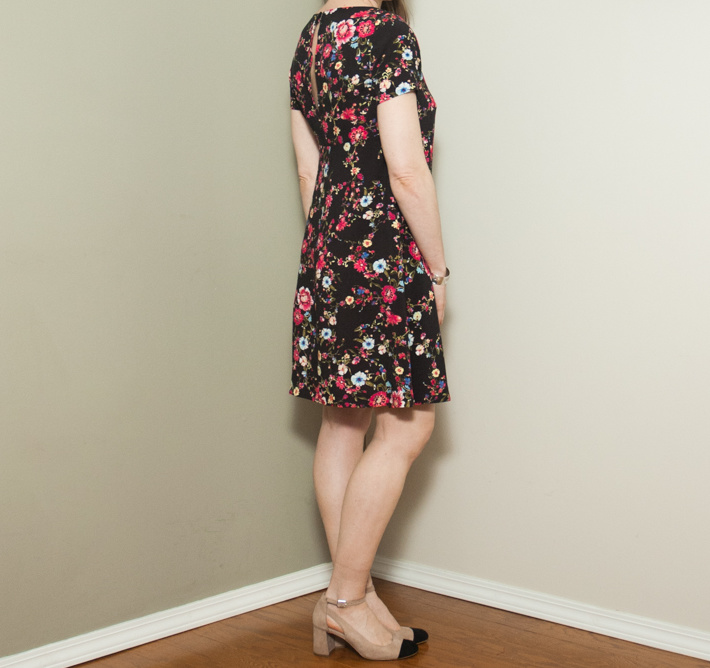 What do you think? Do you have styles that just won't work for you? Or patterns that you've modified heavily
~ Lindsay