I don't like shorts. Full stop. I don't like how they look on me and I really don't like how they feel on me. I don't like my thighs taking centre stage. So why did I make shorts? Well, my husband and I like to go on bike rides. It's getting too warm for me to wear pants and dresses aren't ideal cycle gear. And before you ask, I don't like to wear actual cycling clothes on our rides because we are urban cyclists and often stop at a store or a restaurant when we're out, places I'm just not comfortable wearing cycling shorts and a jersey. I ride a hybrid bike and I only ride for fun and a little bit of exercise, not for sport.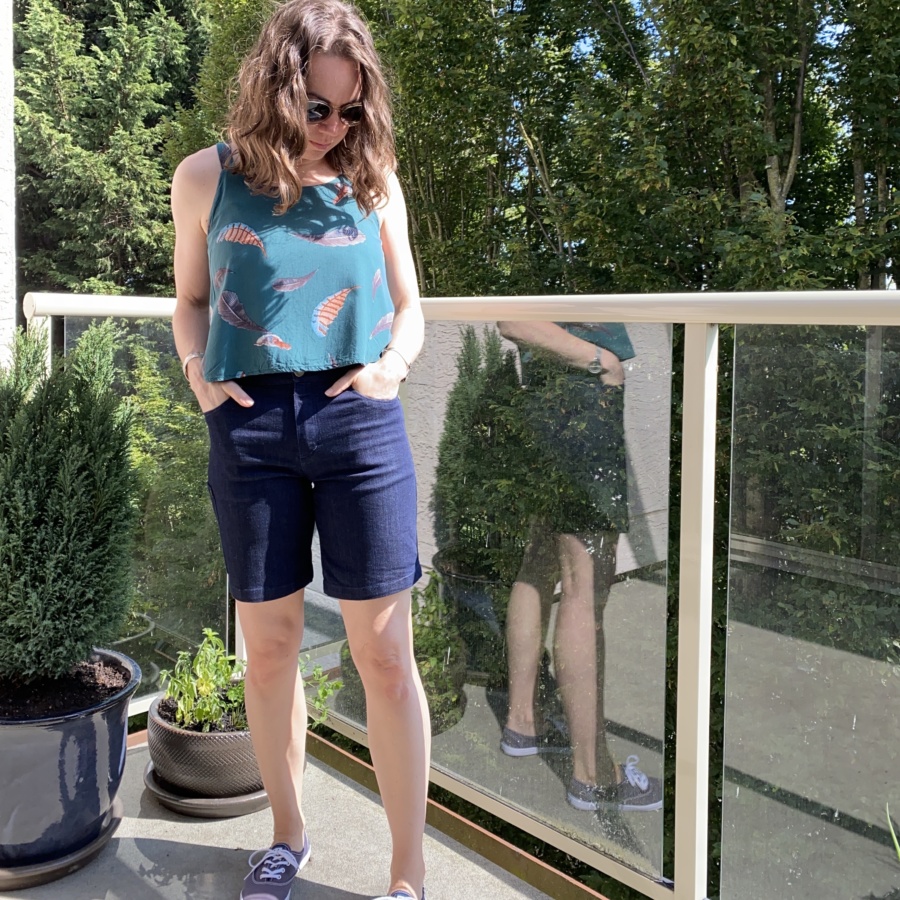 So I had to make myself some shorts. As a person whose inner thighs touch, loose-fitting shorts invariably ride up between my legs (which I find uncomfortable both physically and aesthetically). No loose-fitting shorts for me. Instead, I went for a TNT pattern – my trusty wide-leg Closet Core Ginger Jeans (as previously seen here in black and also here in light wash denim.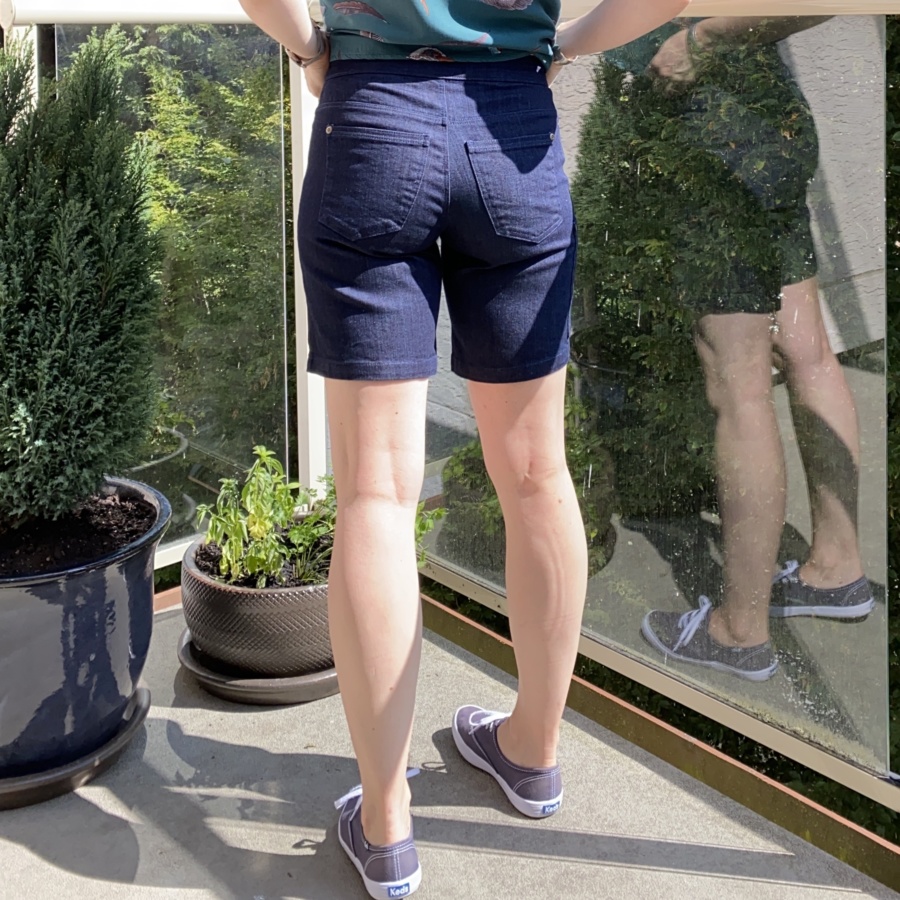 Once I decided, reluctantly, to make shorts, the rest was relatively easy. Here are the details:
Traced my previously modified Ginger Jean size 4 pattern pieces (foreshadowing: this size was too small), to 18 inches side seam length pre-hem
Added about 1.5 cm of extra width to hem on both the side seam and inseam edges of the front and back pattern pieces, tapering to nothing at the hip/crotch (I say "about" because I did a lot of fitting and modifying during the baste fitting and have no idea how much of this extra width I ended up keeping in the end)
Deepened the front pockets by about two inches
Sewed the waistband on with as much stretch as I could maintain (the same way as I explained in version 1 in my previous experiments in stretch blog post)
Added a right-side cell phone pocket
Omitted belt loops (because I will never wear a belt when riding my bike)
Cut the hems at a slight angle to help disguise the inevitable riding up on account of riding a bike and my aforementioned lack of thigh gap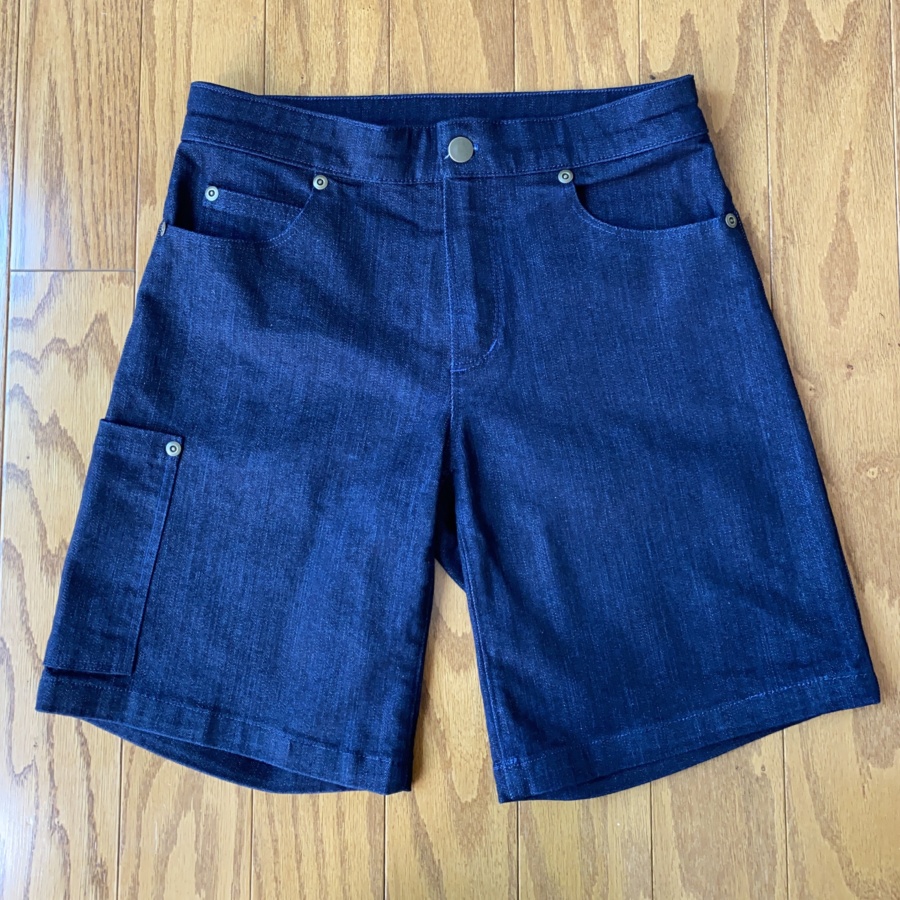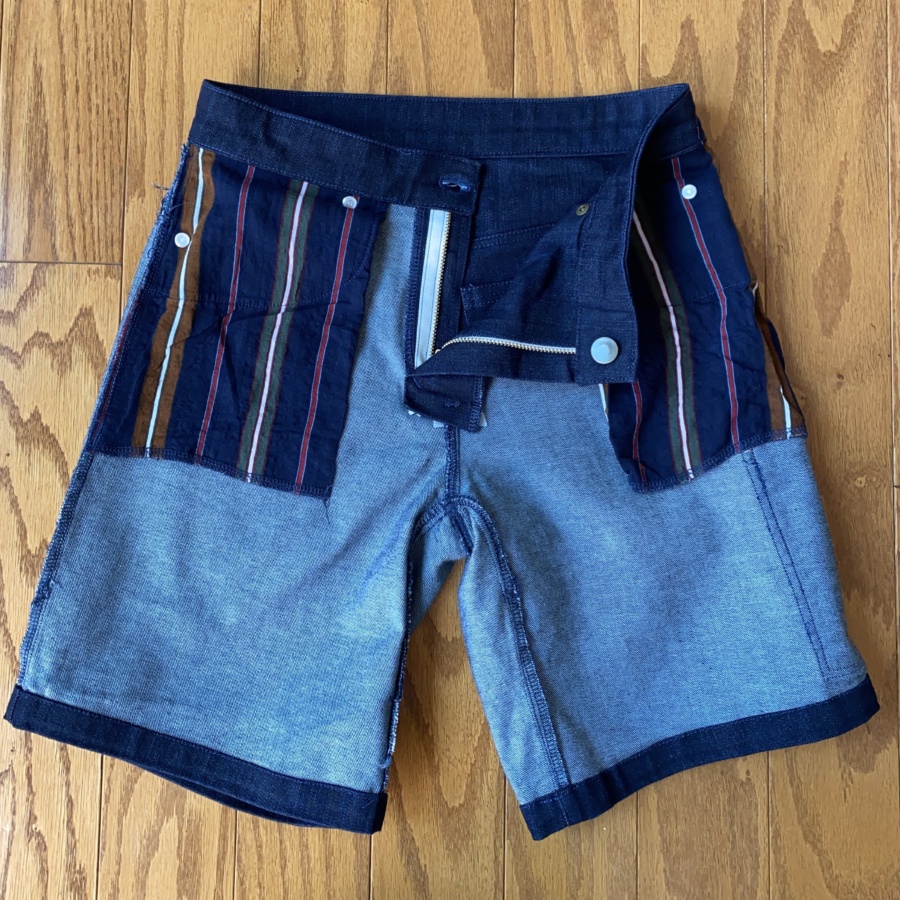 I made a mistake in planning this project. I used an 80cm remnant of Cone Mills S-Gene denim from my stash that I'd had since my first ever jeans project back in January 2019 (it seems so long ago). Unfortunately I forgot that this fabric has far less stretch than the fabric I used in my three most recent jeans projects. I should probably have cut size 6 instead of size 4. I realized my error during baste fitting (always baste fit your jeans!). Reducing the side seam allowances to 1 cm gave me enough room thankfully and I know that these will also stretch out with wear.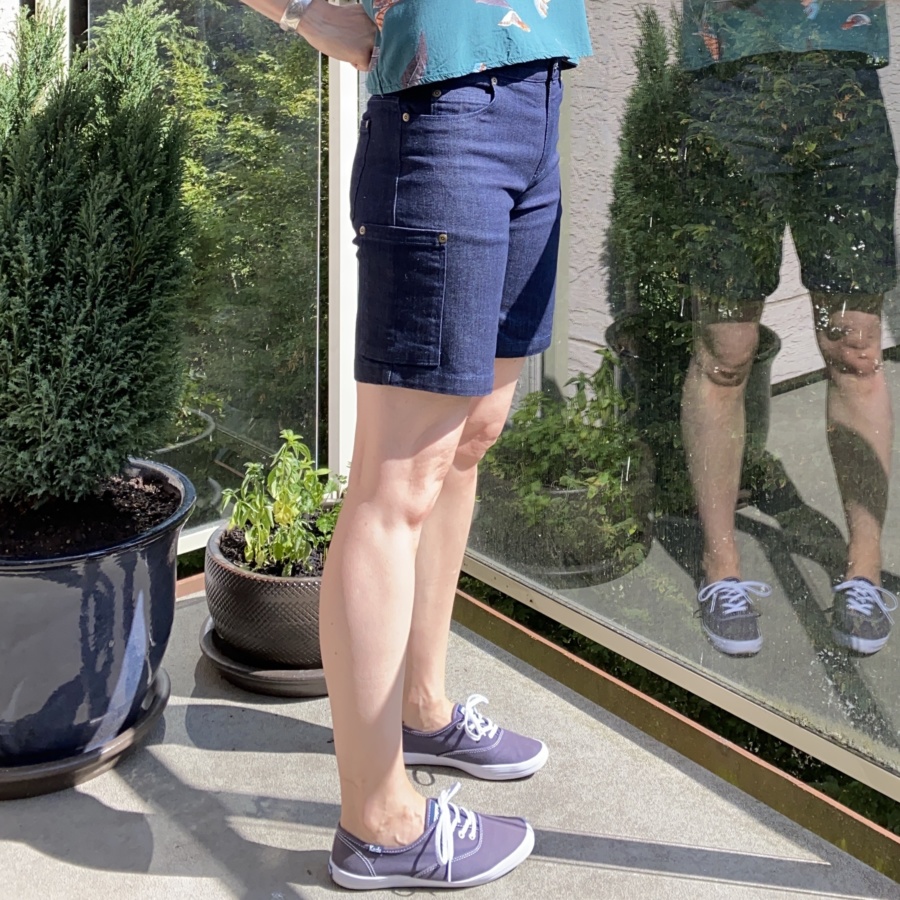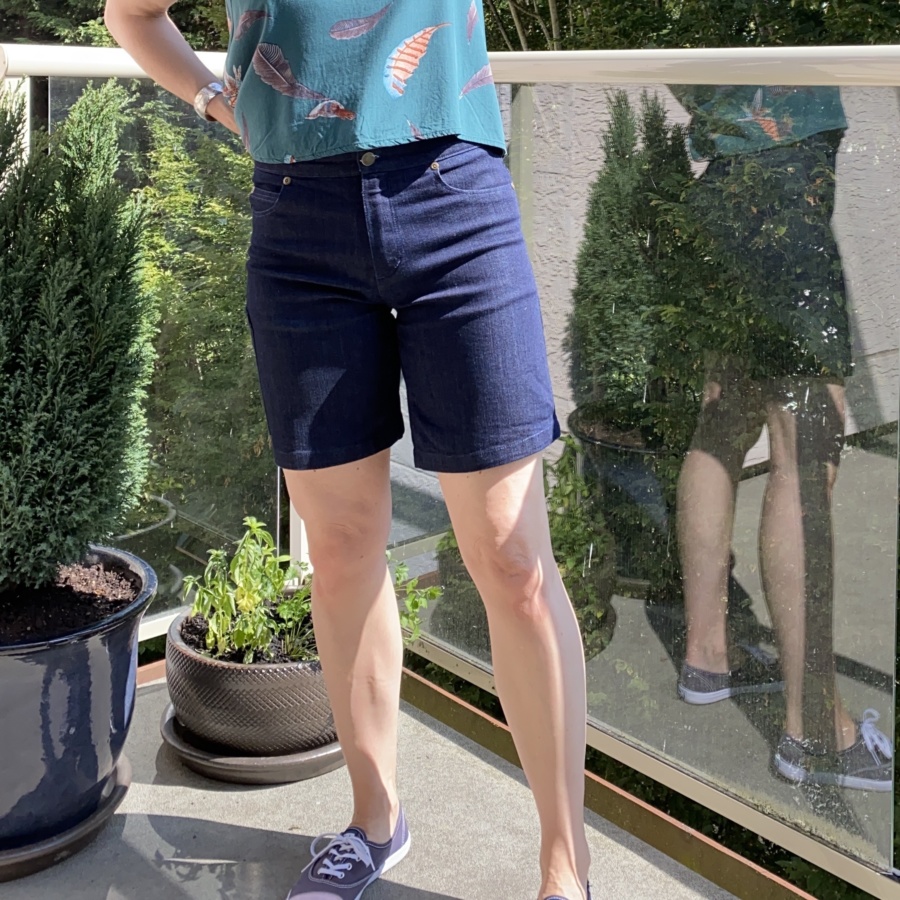 Other than my poor size planning, these went together smoothly. I finished them in about six hours of work spread over two days and have already worn them for their first ride. The cell phone pocket worked perfectly. Originally I'd planned to have a zip top on it but I gave up when the installation became more of a pain than I felt like dealing with. Even without a zip, it holds my phone quite tight and keeps it away from my hip crease but handy if I need to grab it to snap a picture or look at a map.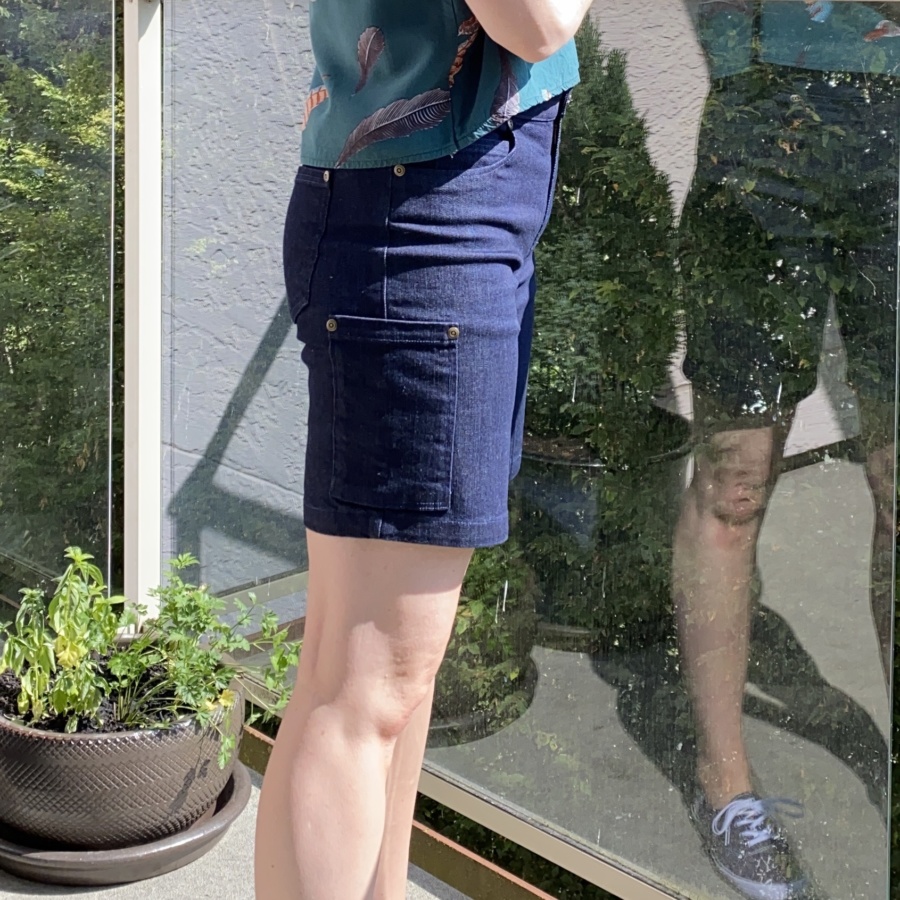 The back-waist stays up nicely so I don't flash anyone. They are tight through the hip but not in the lower thigh and hem and don't feel constricting on my legs. They do ride up a bit at the inseam, but are long enough that they still protect my inner thighs from rubbing the seat.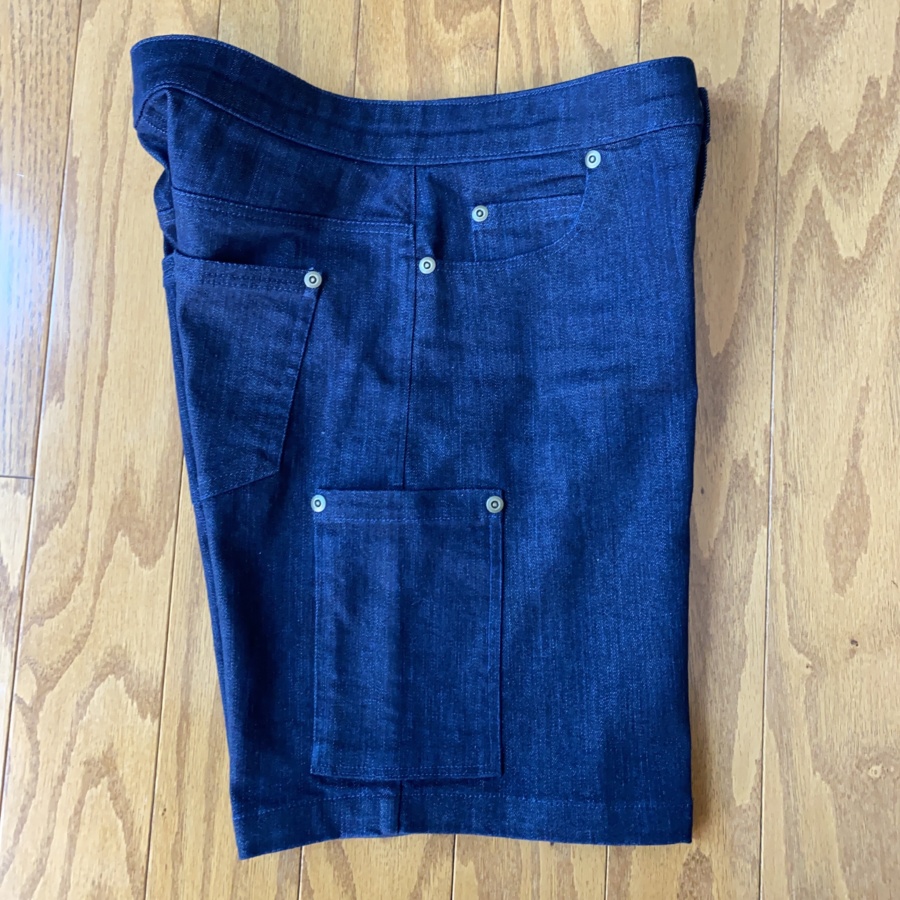 They are a bit tight in the waist but I think they will stretch out nicely over time so I'm not worried. If they don't, I have a little tiny bit of fabric leftover that I think will be enough for another waistband. Hopefully they'll stop turning my legs, hips and waist blue eventually. This Cone Mills S-Gene denim is the worst I've ever experienced for die transfer. I was definitely colourful post-ride but I won't be sharing any pics of that.
Thanks for stopping by!
~ Lindsay