I couldn't help it. I had to make another Ultimate Shift Dress. My first one turned out sew awesome (pun intended), I just had to give it another go. This time I chose a border print rayon that I picked up for 70% off at Fabricland and decided to go for a 3/4 sleeve to show off the print.
I decided not to alter this one because I anticipated the the rayon would hang better than the cotton version. I was right about that. What I didn't account for was the width of my shoulders. When I added the sleeves, the shoulders of the dress became a tad too tight. It's not a deal breaker but next time I use this pattern with the sleeves, I'll be adding extra width to the back to accommodate my shape a little better.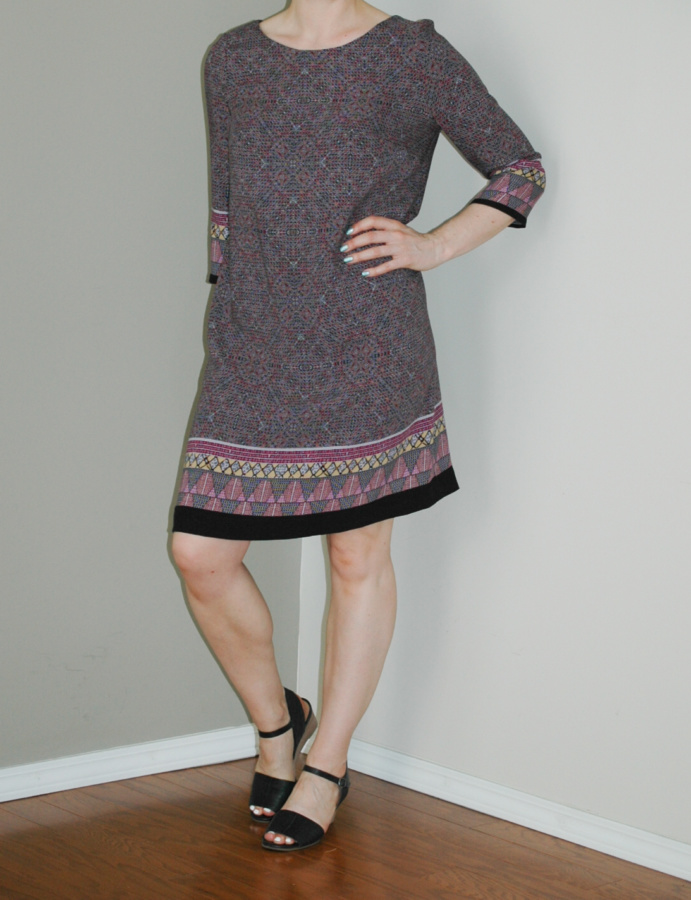 An aside from this dress post: I really wish patterns came with shoulder measurements! The bust and waist measurement of this pattern are right on my measurements so there was no way to know that it would be tight until I made it. Not that this is a new problem for me – years of gymnastics left me with a wider back and shoulder than most women my size, which is one of the reasons I sew my own clothes.  A lot of my bust measurement is taken up by my back. I have already purchase the Sew Over It Pussy Bow Blouse pattern and cut it out on a beautiful silk remnant from Gala Fabrics though so I hope that the shoulder tightness isn't a problem there.
Aside from the tight shoulders, I really like this dress. It is really comfortable and works both with and without a belt (but I think I prefer it without). I also really like how the border print turned out. This was my first time working with a border print. It only added slightly more work to this project (cutting and pattern matching) and it looks fantastic (I think). Here are some closer shots of the fabric.
Thanks for stopping by!
~ Lindsay