I told you how much I loved my first Sew Over It pattern last week. I couldn't wait to try my next one so I jumped straight into the Ultimate Shift Dress. (Sorry these photos are so dark. I'm working on the lighting situation in my condo so they should get better soon!)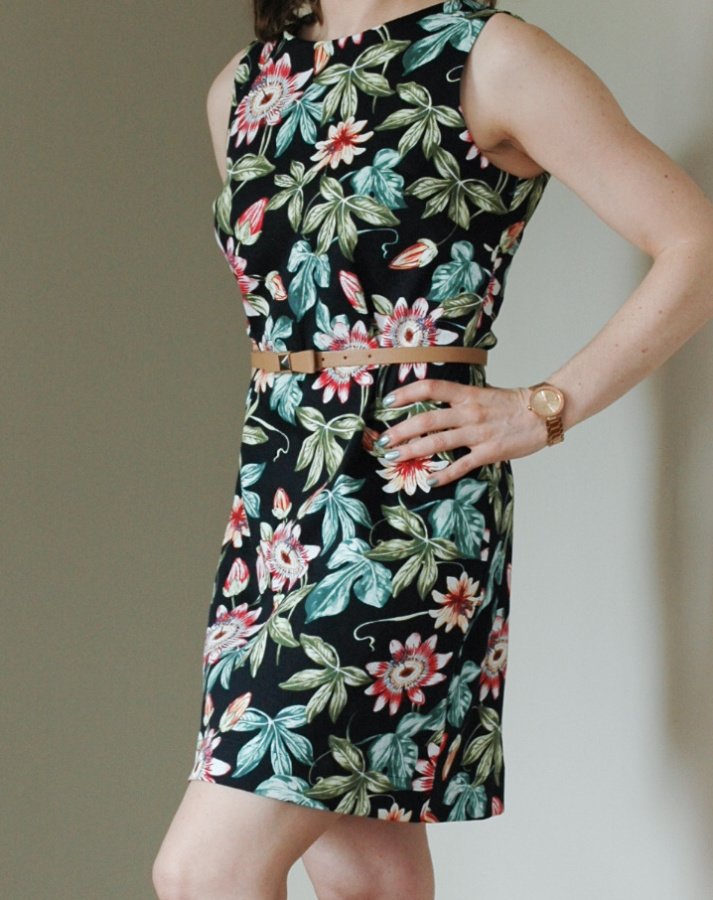 This was an incredibly easy make. I did it all in one evening, including taping the pattern together, cutting it out, and tracing my size. I found this amazing stretch cotton sateen with a deep navy base (yes, it is navy, not black) at Fabricland on sale and have already worn this dress four times since making it at the end of last week. We took family photos this weekend and I even wore it for that! The loose fit and the cotton are perfect for the heat wave we have in British Columbia at the moment and I am so glad a shift dress is now part of my summer wardrobe.
I made a few changes to the fit of this pattern. I shaped the side seams much more than they were shaped in the pattern. I also cut the front and back arm holes a little bigger and shortened the hem to accommodate my height, or lack thereof. I've worn this both with and without the belt since I made it and it works well both ways. The no belt version is way better in the heat though!
With these small modifications, I think this is going to become a staple pattern for me. I'm already planning a rayon version with 3/4 sleeves for the transition to fall (which can't come soon enough). While we wait for fall, if you're wondering about this pattern, I recommend giving it a try. Just don't be afraid to modify it if you need to for a perfect fit.
Thanks for stopping by!
~ Lindsay