Sometimes I make something that just doesn't work. The Seamwork Veronica is one of those makes for me.
It doesn't look as bad in these photos as it did in person… but I did only keep the best of the best images. I wish I had kept some of the ones that really showed how badly this turned out but you'll have to trust me when I say that it just wasn't good.
Ihave wide shoulders for my height. I also don't have much of a waist. After this make, I've learned that combination of physical traits just does not work with this style of top. The wide 'T' shape of the shoulders just accentuates my width up top and the skirt does nothing to balance that out. It's not the fault of the pattern. The pattern is fine. It is just a style that does not work for me and my body. My upper body is lost in this and I just find it very unflattering.
The other things about this make that just didn't work was the back zipper. I lengthened the bodice a bit because I didn't want it pulling at the waist and I hoped it would have a nice drapey fit… but it didn't. The zipper made the back bubble out horribly (sorry, I ripped the zipper out immediately and didn't think to take photos first). I ended up leaving the back open to the waist and closing it with a button at the back neck but I think the fabric has too much structure to drape anyway and ended up adding more width to my torso. This, combined with the wide shoulders, makes this dress a fail for me.
At least my pattern matching at the side seam went well!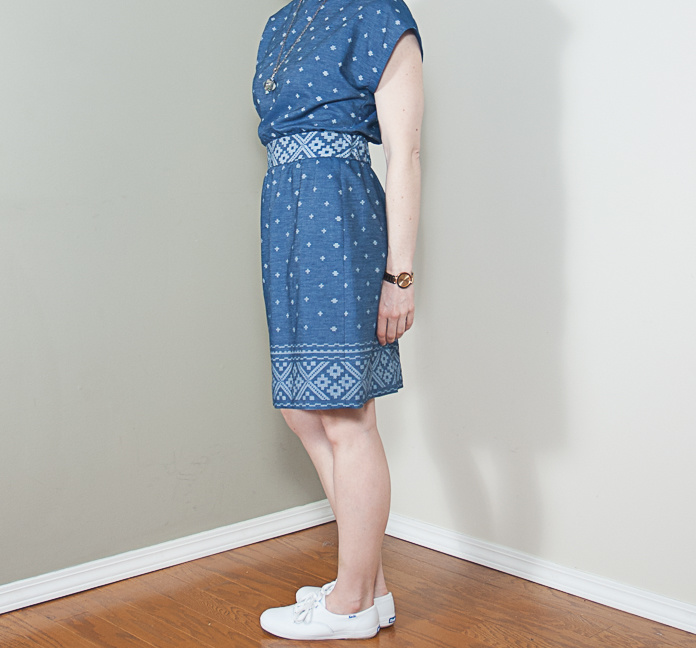 This dress will be donated. Hopefully someone else will like it more than I do. On to the next make!
~ Lindsay