A while back I was inspired by the outfit of a fashion blogger that I follow. The blog is called Lovely Pepa by Alexandra and the outfit was a fitted pencil skirt with matching crop top.
Like this –>
Putting aside the fact that really have no practical place to wear an outfit like this, and the knowledge that I was unlikely to find this exact outfit because Alexandra lives in Spain, I decided to find a way to make my own version.
I began hunting for separates that I could convert into a similar top-skirt combo. It didn't take long to find a floor-length maxi skirt and long sleeved top on sale from Jacob. I decided to get them and see what I could make of it.
This is what I started with: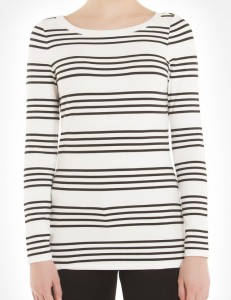 My plans:
Shorten the top into a crop top (leaving the length in the sleeves)
Shorten the maxi skirt to just below the knee, removing the slit
Narrow the remaining maxi skirt into a pencil skirt
Hem the top and skirt
It actually turned out to be a pretty easy alteration once I figured out how long to make the top and how short to make the skirt. After some pinning and re-pinning, cutting, and hemming, I think it turned out pretty well!
Now to find somewhere to wear it…
Thanks for stopping by!
~ Lindsay