I just made my first Seamwork pattern – the Astoria cropped sweatshirt (even though it is still far too warm out to wear it). I've had this pattern for a while but wasn't sure what material to use. I ended up going with a creamy white Ponte di Roma that I had in my stash for another potential project and I love it.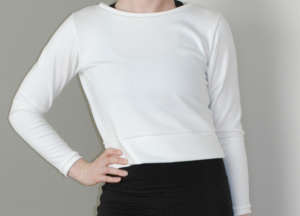 The only small issue I have with this pattern is that the ease in the waist ended up being more than it was supposed to be (according to the pattern). This is fine because I don't mind it being a bit loose, but if I make this pattern again, I will likely size down the waist. The only change I made to the pattern was the sleeve cuffs. I didn't like how the pattern instructed me to finish them and the sleeves were also a tad long on me, so I cut off about 2.5 inches from the bottom of the sleeves, sewed the resulting piece it into a circle, folded the circle in half, wrong sides together, along its length, and attached it back to the sleeve the same way as the neck and waist bands.
The best part about this make? I did the sewing 100% with my serger and sewed it up in 1 hour! It is a super fast make and so comfy to wear. I have a few more Seamwork patterns waiting in the wings now – Georgia (which I plan to do in faux leather, like the example), Aires, Camden (which I have had for a while and cannot wait to make!) and Mesa. Many more makes to come :)
Thanks for stopping by!
~ Lindsay