The Blackwood Cardigan by Helen of Helen's Closet has been all over my Instagram feed this year and Helen is a fellow Canadian so I knew I had to give it a go. I had trouble finding a fabric that I wanted to use for it though, that is until I went on a weekend trip to Vancouver. I found a textured cotton knit at Dressew in Gastown (on a crazy pre-halloween weekend) and knew right away that I had to make a Blackwood.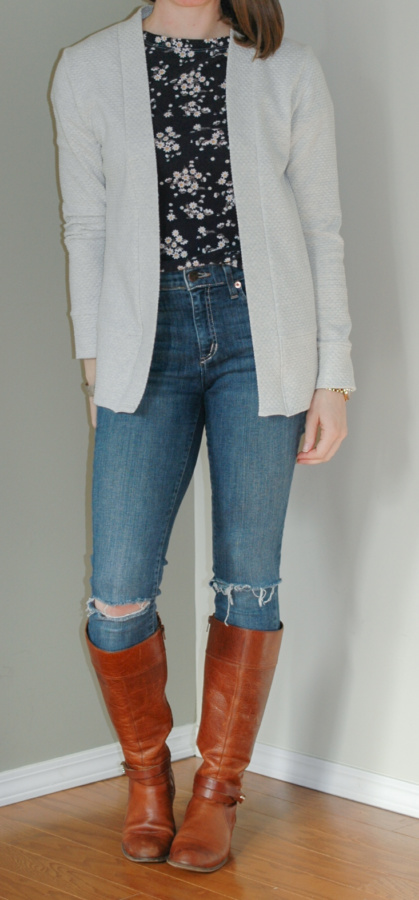 Unfortunately the fabric is oatmeal coloured and doesn't show up well on camera so you'll have to trust me that it is quite soft and lovely. I made the shorter version of the Blackwood Cardigan without the pockets. I made a mix of the XS, S and M sizes and shortened the sleeves by about 3″. If I make it again, I will probably stick with size small and may keep the sleeve length and cut a little hole in the cuff for my thumbs…. hmmm… I may have to make another one soon!
I love how this cardigan is shaped. It sits perfectly open and the front band keeps it lying flat across my neck and shoulders and all the way down the front. I had a couple of issues with making the front band fit, probably more because of my use of multiple sizes than anything to do with the pattern itself. Otherwise the instructions were clear and easy to follow and this sewed up in an hour for me (using a serger only).
I know I say this with a lot of patterns, but this won't be my last Blackwood make. I'm already on the lookout for a nice dark navy and/or a black sweater knit for my next version. Stay tuned…
~ Lindsay